The concept of engagement rings as a promise of love and devotion dates back to the ancient Egyptians, who believed the ring represented eternity. They would exchange the rings made of woven reed and wear them on the fourth finger of the left hand, which they believed had a vein leading straight to the heart.
The custom of giving diamond rings became popular in the early twentieth century. During this time, there was a greater emphasis on the idea that a diamond ring represented love and devotion. The public's attention was drawn to the belief that the size of a diamond signified the depth of a man's love.
Diamond rings today come in a variety of styles and forms, but the symbolism remains the same. A diamond engagement ring has become a powerful symbol of love and commitment. It stands for a promise to be devoted, to stick with your loved one through good times and bad, and to create a life together. Diamonds will always be the perfect symbol of commitment. We've gathered here a list of the top five diamond rings from Mia by Tanishq to ensure you capture your loved one's heart by gifting the best.
14kt Yellow Gold Diamond Finger Ring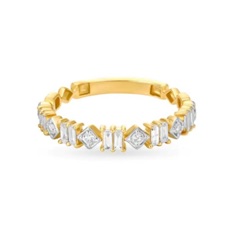 An attractive, spectacular, and expertly designed ring that will make you fall in love with jewellery. The brilliant yellow gold is fashioned into a stylish, modern design. An assortment of gleaming diamonds enhances the ring's elegance. Diamond rings are an incredibly thoughtful present for any occasion, and this particular piece can be an excellent choice.
14kt Yellow Gold Rare Pair Diamond and Blue Topaz Ring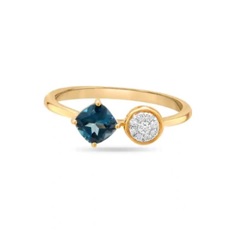 Simple yet enchanting, this diamond ring comes with blue topaz at the crown. Although the diamond symbolises love and commitment, blue topaz is right behind it. Blue topaz represents loyalty and righteousness. It is often connected with true love, trust, relationships, and communication. The rare pair collection of Mia by Tanishq includes these diamond rings.
18 Kt Rose Gold Minimal Diamond Ring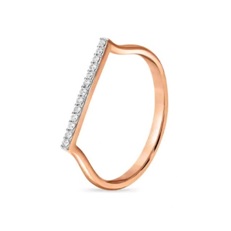 Make your treasured ones' day more memorable by giving them this pocket-friendly diamond ring. This diamond ring, given to commemorate the day you first met or on your engagement day, will symbolise a significant milestone in your life. These minimalistic diamond rings have 18Kt purity as well as timeless simplicity and beauty.
14 Kt Regal Diamond Mangalsutra Ring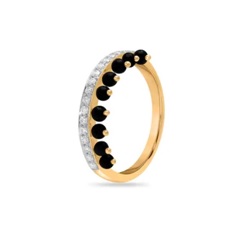 Treat her like a queen she is! Start your life with your better half by gifting her this stunning diamond ring from the Mia by Tanishq Sutra collection. This beautiful ring adorned with sparkling diamonds and embellished with rich black onyx beads will be the perfect gift to celebrate new beginnings. The diamond rings of this collection are made with 14-karat yellow gold and best-quality diamonds.
14 Kt Reversible Yellow Gold and Diamond Ring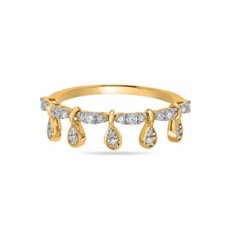 This ring is the best choice for your workaholic partner. This lovely diamond ring is part of the Mia by Tanishq festive collection. This piece will undoubtedly symbolise your love and be the ideal accessory for casual and workwear attire. As the name implies, the diamond ring can be flipped and worn on different occasions.
Celebrate Special Moments with Diamond Rings
Diamond rings symbolise the start of a new chapter in your life and tell your unique love story. When the time comes to find the perfect diamond ring for your special someone, you'll be delighted you stumble upon the gorgeous diamond ring selection featured above. A diamond ring is something your spouse will wear and treasure for the rest of their life. So, you must make an informed selection. If you want to see more diamond ring designs, visit the website of Mia by Tanishq, and take a look for yourself!