Buying cookware is like a maturity test. It precisely portrays your habits and lifestyle. Of course, good cookware should be affordable, low-maintenance, and makes your food healthy.
Cast Iron cookware checks all three requirements. It makes you spend time cleaning and more time enjoying meals rich in iron.
If you want to try cast iron cookware, use the gift card and get several cookware pieces.
Cast Iron Cookware in Kitchen
Yet, maybe you are unaware of the advantages of this type of cookware.
The secret behind the rising popularity of the cast iron cookware is more practicality in the kitchen. Cast iron pieces allow various cooking techniques, letting you enjoy more recipes.
However, a simple maintenance routine is a thing some people enjoy more than food. You can clean the cookware with elementary hygiene products.
Aside from the principal cleaning practice, the cast iron cookware lasts for years. The durability of the cookware depends on the quality of the manufacture.
For example, the Stargazer cast iron is an American-made product. It serves a niche of people that want premium cast iron products to enhance their cooking experience.
Working in a kitchen is much more than boiling water and cooking meat. It's about the whole process and devotion to a diet you genuinely enjoy.
Lasts Longer
But, before you get to the recipes and healthy diet, think of durability. Today, you can find extensive catalogs of cookware products.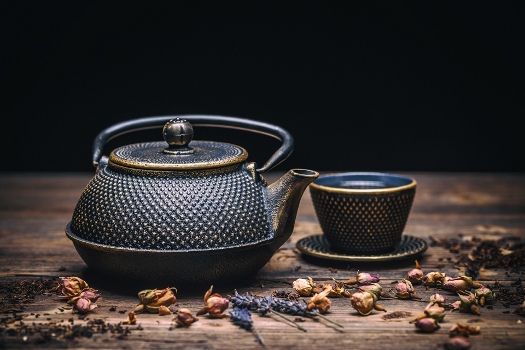 There are usually two extremes that form this particular market. On one side are the high-end products to aid your cooking process. On the other side are niche-oriented products.
It's up to the consumer to cut through the clutter and find the right fit for their kitchen.
After a few purchases, you start to cherish the durability of the cookware.
Once you strip the products of their features, you understand the value of durability. Cast iron uses a specific type of iron handling, as the name implies.
It gives a sturdier, robust item that better retains the heat. And, since iron is the primary element, you can expect the cookware to last long.
The peculiar thing about this manufacturing technique is how it affects the food taste. The last furnish of the cookware gives the cookware a slight seasoning.
When you get a quality product, the taste of seasoning is minimal. But, you still get all the iron food absorbs from the cookware.
Easier Maintenance
After the cooking ends, the time comes for the gruesome activity know as cleaning.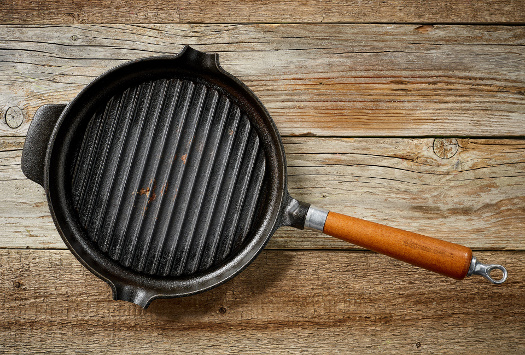 All cooking processes, including baking, frying, or roasting, leave rough stains. That's the case, at least, when you use standard cookware.
Cast iron cookware is easy to clean since the food won't stick to the cookware. Another advantage that you can cook any food and clean it with the same routine.
For elementary hygiene, you can use detergents and a brush. Also, using a Scotch-Brite pad is highly recommended. There are additional cleaning products you can use, of course.
But, that depends on your preferences and cleaning routine. The beauty of the cast iron cookware is in its low maintenance.
The advantage of this cookware type is the natural durability that comes from the manufacturing process. Now you know what makes cast iron cookware so functional in the kitchen.
It's time to get to the juicy part of the story.
Cook Healthier Food
The prime reason to use the cast iron cookware is to eat healthier. Every meal you prepare is rich in iron and other nutritious minerals.
Another benefit of cast iron skillet or another piece of cookware is that it allows various cooking techniques. With cast iron cookware, you can:
Fry
Roast
Sear
Bake
Slow cook
The thing with cast iron cookware is that the cookware retains flavors and juices during the cooking. Whether you are frying or roasting chicken, it comes out evenly cooked and with a crisp taste.
However, the fact that you can bake pastries, bread, and pies fascinates people the most. It opens up a ton of possibilities for people to cook healthy recipes and enjoy food.
There's another thing to consider when purchasing this type of cookware. Cast iron cookware is the staple name of a variety of products available for buyers.
Variety of Products
When people buy cast iron cookware, they are usually shopping for a cast-iron skillet. Cast iron skillet is the elementary cast iron product for cooking.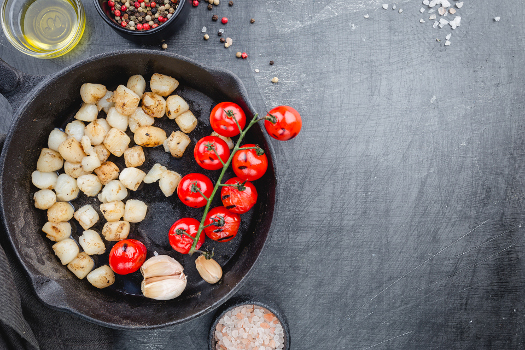 However, there is a lot more to cast iron cookware than a cast-iron skillet. Cast iron cookware includes:
Skillet
Pan
Bread pan
Kadhai
Casserole with a lid
So, you can get a piece of cast iron cookware for your kitchen, a restaurant, or for specific meal preparation. But, you can also get cast iron cookware for a lifestyle choice.
For example, cast iron skillets work great for camping trips. You can take them for camping, hiking, hunting, or mountain climbing.
With a cast-iron skillet or other cookware, you are ready to tackle any culinary challenge – And don't feel disgruntled when it comes to cleaning.
Try Cast Iron Cookware
If you want to improve your kitchen or a cookware set, give cast iron cookware a try. It's a relatively cheap experiment to try for such a huge change.
Some things you can only discover after you give them a try. Let the cast-iron cookware change how you cook, eat, live.