Many people feel the choice of a suit is a matter of taste. While that's true, if a suit is tweed, it takes a certain panache to effectively pull it off.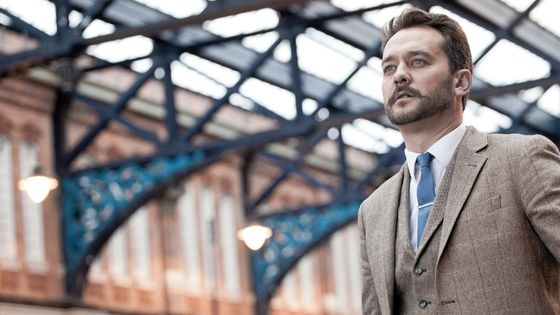 Origin of Tweed
Tweed was first worn in 18th Century Scotland, and was popular with hunters and fishermen. Its name comes from the Tweed River, in Scotland. In addition to its hardy character, looks soft, but with a quick touch, you'll feel its coarse texture. Tweed is frequently found in grey, tan and brown; commonly in a subtle herringbone pattern.
Tweed provides enough warmth and durability to be an ideal winter coat. However, it can also lend itself to a lighter weight suit.
Although many associate tweed with hunting, others associate tweed suits with professors. A pair of elbow patches will ensure the wearer looks like the cliche of a professor.
Types of Tweed Suit
There are three types of mens tweed suits: the single-breasted suit, the double-breasted suit and the hacking jacket.
A single-breasted suit is the most common choice. It has only one set of buttons. A double-breasted suit has two rows of buttons, and is favored by tall men with larger body types.
A hacking jacket is shorter and more casual; it's often the choice of hunters.
How to Wear a Tweed Suit
One of the best reasons to choose suede is its ability to be worn at both upscale events or for a more casual look. If you're attending a formal event, you'll need to add a dress shirt and a tie. For a less formal occasion, you can pair it with a T-shirt or sweater.
Select a suit color that complements your personality. You can find tweed n brown, green or blue.
If you want to be noticed, choose a vest or tie with a contrasting color. This will allow you to stand out from the crowd – and add to the way the suit brings out your personality.
Tweed suits have an impact of their own – and that impact is the reason you buy one. So, any accessories you choose should be simple and basic.
A brown tweed jacket can ideally be paired with a light blue shirt, a navy-colored tie, cream-colored khaki pants and black dress shoes.
Complete it with a brown leather belt and pocket square.
Trends of the Tweed
When movie characters use a style, it often catches on with its fans.
For example – in the TV series, "Doctor Who," the eleventh incarnation of the Doctor – played by Matt James – sported a tweed jacket, braces and a bow tie.
In the movie, the Kings Speech, the elaborate wardrobe of Colin Firth's King as contrasted by Geoffrey Rush's more limited wardrobe become linked with their overall character. Even Lionel Logue's elaborate suits become an important illustration of his character.
Indiana Jones is a character who isn't normally defined by his wardrobe. But, in his role as a lecturer Dr. Jones sports a tweed jacket that's right out of the Cliche Book of how a professor should look.
Why Tweed is Now Surging in Popularity
Although tweed suits have always been a popular choice, one reason for new popularity is due to the TV show, Peaky Blinders.
To get the Peaky Binders look, start with a basic white shirt. Pick out a pocket watch, tie clip and a scarf – and wear black dress shoes or boots for the finishing touch. One additional touch for the look is to wear a derby hat.
There aren't too many other fashion choices that can automatically convey "class" by themselves- but can also give the wearer plenty of styling and accessory choices.
Yes, it's true: a tweed suit can tell the world who you are. So.
Are you ready for tweed?