With business tools and solutions becoming increasingly digital reliant, should organisations be relying on cloud-based solutions like SaaS?
Nobody can deny that software has become an absolute necessity in business (this has been true for a number of decades now), but in recent times the value of the standard software installation model has been called into question on many occasions. A recent example of this has been with the COVID-19 pandemic, where businesses that relied on IT infrastructure designed for on-premise work suddenly had to contend with inefficiencies brought on by a new way of working (WFH/remote work). The solution, in the eyes of most IT experts, is Software as a Service.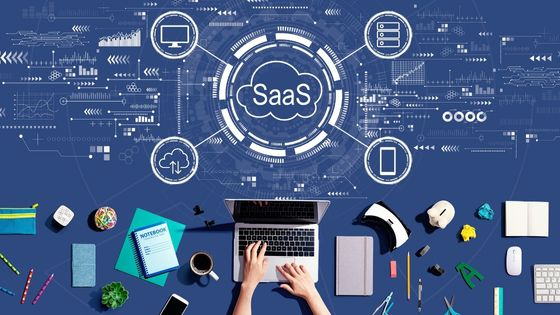 What is Software as a Service (SaaS)?
As most IT support companies will be able to confirm, software as a service has been growing in popularity, awareness and demand. One company we spoke to – a London-based provider of IT support for Schools – stated that SaaS inquiries from their clients have been increasing since the start of the COVID-19 pandemic. Many other companies have been working with SaaS solutions for more than a decade now. But what exactly does SaaS mean?
Software as a service means that the app you are accessing is not hosted on the device you are using. Typically, the app (or apps) is hosted in a cloud infrastructure owned and managed by the software vendor. An example of SaaS includes Microsoft 365 – which is in fact a suite of apps that are all hosted in Microsoft's cloud datacentres.
Benefits of SaaS for Businesses
Software as a service is considered by many to be the future of software access models. There are many benefits to it – as businesses found when the COVID-19 pandemic hit, as well as moving forward. When we spoke to a provider of IT support Croydon and London organisations have worked with since 2010, they claimed that the SaaS solutions they rely on (namely, Microsoft 365) has been helping them and their clients on a daily basis for as long as they have been in business. So, what are some of the key benefits businesses can expect?
1. Cloud-based (always available)
As software as a service uses the cloud, it means that apps and services are available anywhere, at any time. Traditional software models require the application to be installed on the hard-disk of a device, whereas SaaS solutions reside in the cloud, and can be accessed from any device, so long as there is internet connection. For example, all the products in Microsoft 365 have versions for mobile, desktop and the web.
2. Updates at no extra cost
Rather than paying upfront for the latest version of a piece of software, software as a service requires the user to pay a monthly subscription for access to the service. The upshot of this is that you do not have to pay for the next version of the software; in fact, there typically isn't a 'next version', as SaaS rolls out stable updates as soon as they are ready for public use.
3. Scalability
The fact that SaaS solutions do not require any real installations, and the fact that getting access is as simple as setting up an account and paying for the license, means that they are very easily scaled up and down. We spoke with an Office 365 company who said that SaaS solutions are designed to make it easy to activate and deactivate licenses; many businesses use this if they have seasonal fluctuations in service demand (i.e. they scale their workforce up and down by season, and ensure they're not paying for unused licenses).