Do you hear a strange noise every time your air conditioner kicks on? Is it taking longer and longer for your home to cool down? Did you forget to schedule preventative maintenance, and now your HVAC system is not working properly?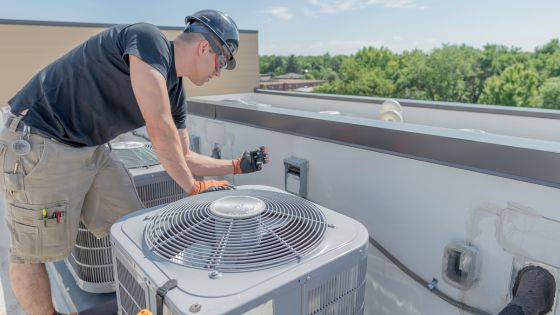 Look no further, because the skilled technicians at Draper's HVAC Heroes are available to help! With over 20 years of experience in heating, ventilation, and air conditioning services, we can provide our customers with quick and trusted solutions for all their cooling needs.
Read on to learn more about how our specialized team of experts can keep your home comfortable during those hot summer days!
The Different Types of AC Problems and How to Troubleshoot Them
Summertime can get pretty brutal, and a working AC unit is a must for staying cool. Unfortunately, AC units can experience problems, leaving you in a sweltering home. Some common AC problems include frozen coils, leaks, clogged air filters, and electrical issues.
Troubleshooting these problems can be a little tricky, but luckily, with the right tools and knowledge, you can attempt to fix them yourself. For example, a frozen coil can be defrosted with a hairdryer, while a clogged air filter can be easily replaced.
Electrical issues, on the other hand, should be addressed by a professional. Knowing how to troubleshoot different AC problems can save you the frustration and expense of having to replace the entire unit. With a bit of know-how, you can keep your home cool and comfortable all summer.
Why It's Important to Have an Expert Inspect Your Unit Before the Heat Wave Hits
As temperatures start to rise, many people turn on their air conditioners without giving much thought to the condition of their units. However, failing to have your AC unit inspected beforehand can lead to a host of problems, including decreased efficiency, higher energy bills, and even a complete breakdown.
That's why it's important to have an expert inspect your unit before the heat wave hits. A professional technician can identify and fix any issues before they become costly problems, ensuring that your AC is running smoothly and efficiently throughout the dog days of summer. With a little proactive maintenance, you can enjoy cool, comfortable temperatures all season long.
Get Quality Parts and Professional Installations with Draper's HVAC Heroes
Are you in need of HVAC repairs or installations that you can trust? Look no further than Draper's HVAC Heroes. Our team of experienced technicians is dedicated to providing top-quality service and using the best parts to ensure your HVAC system is running smoothly and efficiently.
We understand the importance of a comfortable home or workspace, and we strive to exceed your expectations with every job. From routine maintenance to emergency repairs, we are here to help. Trust the experts at Draper's HVAC Heroes to keep your HVAC system in top shape.
Tips for Keeping Your AC Working Properly and Preventing Costly Repairs
During hot and humid summer months, an air conditioner can be a lifesaver, providing us with a cool and comfortable home. However, if it suddenly stops working, we can be left with a sweltering and uncomfortable living space, coupled with the anxiety and potential financial burden of an expensive repair.
In order to keep your air conditioner working at its optimal level and prevent costly repairs, there are a few tips to follow. Firstly, it is important to regularly change the air filter to ensure proper airflow and prevent debris buildup, while also considering the size of the filter to ensure it fits securely.
Additionally, keeping a clean and clear outdoor unit, regularly checking refrigerant levels, and scheduling professional maintenance can all contribute to a properly functioning and cost-effective air conditioning unit.
Save Money on Energy Bills by Investing in Regular Maintenance Checks
Saving money on energy bills is a priority for many households, but did you know that investing in regular maintenance checks can be a game-changer? With energy bills on the rise, every little bit helps, and conducting regular maintenance checks on your heating, ventilation, and air conditioning systems can make a world of difference.
By keeping your systems running efficiently, you can reduce the amount of energy used and save money in the long run. It's an investment in not only your pocketbook but also the environment, as reducing energy waste has a positive impact on our planet.
The experienced technicians at Draper's HVAC Heroes can provide expert inspections, tune-ups, installations, and professional advice with their high standards of customer service. So beat the heat this summer with Draper's HVAC Heroes—call today to get started on the road towards cost-saving comfort and convenience!