What is the best? Have you ever wondered – it is just a relative term to express the degree of your satisfaction on a particular product, service or situation? Take a deep breath and a little time off to ponder over the issue – 'm sure you will get to the root. We would therefore be carrying this thought along while discussing about the best five watches and mobiles.
What is a wrist watch mobile phone?
A watch phone that serves both the purposes of a wrist watch and a mobile phone is called a wrist watch mobile phone and can be worn on your wrist as well leaving behind the burden of wearing a watch additionally. These are high end phones enabled with interactive touch screen to Bluetooth. Technology and its impact in our lives has emerged so fast in the recent year that we can witness a paradigm shift in the quality of products.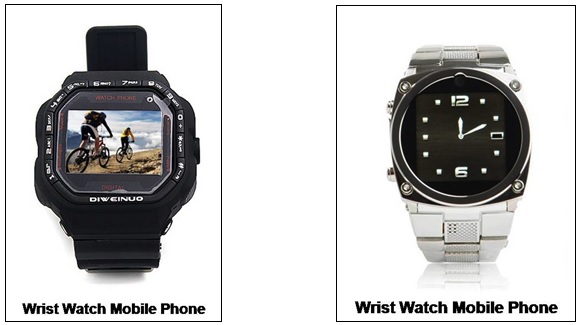 5 Best Wrist Watch Mobile Phones:
I said right at the outset that there's no format which can flawlessly adjudge a product as the best in class or world class since the parameter itself is too vast to be accepted worldwide. But, as consumers we always can have inclination on a product or two that satisfies our needs best. I would close on the following five wrist watch mobile phones as the best of the lot.
• Nokia Morph: Nokia Morph is believed to be the future of all wrist watch cell phone which is a concept cell phone and promises to take create high decibel resonance in the market as this cell phone will be awfully flexible in wrapping up your wrist just like a bracelet or a watch.
How will this work as a phone? It's simple – just straighten it up and hold onto your years while attending a call. Wanna make a call? Nokia Morph will have an answer to it as it would become a flat touch screen on straightening it up. This promises an unprecedented marriage between technology and fashion for sure.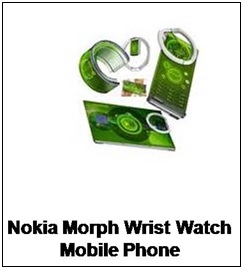 • WG00: Don't want to look like a geek, still prefer to wear a smart gadget that look pretty and relieves you of pains in carrying and taking care of too many gadgets. There's no denying the fact that at times you feel tired of or just can't handle too many things particularly when you are driving or in hurry for an appointment or so. Right?
Go for a WG00 wrist watch mobile phone which has three different colors on offer and each watch is equipped with 1.5 TFT Touch Screen, FM radio in addition to the attributes such as voice recording, video and photo player.
• Q8: This wrist watch mobile phone comes handy with an option of having dual SIM cards which can sooner than the later be found very useful.
The phone has the features like 1.5 inch touch screen, Bluetooth stereo output along with FM radio and 3GP/MP4/MP3 playback with equalizer and supports. The USP (unique selling proposition) for this cell phone is it has keypad for easy typing and input followed by touch pen for writing hidden behind the watch cellphone. Your only worry could be the small screen for writing that virtually debars you from writing with your finger.
Also you will get all these benefits in Rolex Watches As well! So before buying that must know some important things of Rolex Watches.
• MQ998: Some products are highly deceiving for the good or the bad. How? Just look at MQ998 which appears perfectly like an ordinary watch; but in effect it is equipped with a host of attributes of a wrist watch mobile phone.
This wrist watch phone has 1.5 inch TFT flat screen with 1.3 MP camera that enables you for video recording. It is equipped with GPRS and WAP connectivity alongside Bluetooth headset and TFT Card Slot that enable its memory up to 2GB.
• MQ007: This phone rightfully suits the stature of ladies right through its color combination and small as well as sleek designs. At a first glance you might land up concluding it to be a kid's watch. Nonetheless it has human engineering excellence that makes it stands apart; surely not meant for kids.
The traits of this phone are manifold such as 1.5 inch TFT touch screen, 1.3 megapixel camera. It supports Bluetooth and its headset, MP3/MP4 Player and TF card in turn that supports memory up to 8GB – that's fantastic keeping ladies in view. Te phone has five language support; namely French, Chinese, German, Spanish and English.
Grab one that suits your budget and taste most and enjoy the ecstasies it unfolds.