The world of digital marketing is an ever-changing one, with new strategies and channels popping up every other day. Successful digital marketing is a combination of art and science. You have to be creative, but you also need to know what you're talking about. The number of tools available to marketers has also increased exponentially, making it difficult for beginners to decide which ones are the best for them. To help you out in your endeavors, here's our ultimate guide to digital marketing that can be used by beginners as well as advanced-level marketers.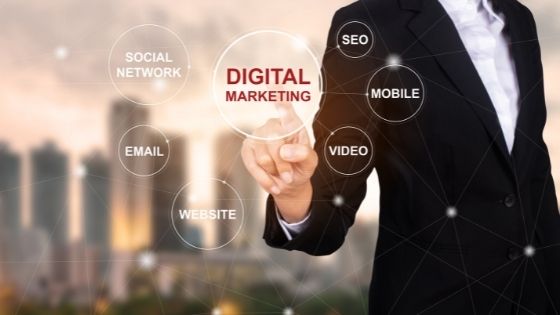 What is digital marketing?
Digital marketing is the promotion of products or brands using digital technologies. It's an umbrella term for advertising in any online channel. This would include ads that are delivered through websites, banners & pop-ups on social platforms, mobile applications, and emails among others. Basically, any form of advertisement that uses technology rather than paper is digital marketing.
It's the best way to reach out to your target audience considering more people today are surfing the internet rather than reading print media like newspapers & magazines. Traditional marketing strategies such as TV commercials, usually aim at delivering information about a company's product via short ad breaks or infomercials during shows on TV, while digital marketing uses technology to engage with consumers over longer periods of time.
How does it work?
The two ways to deliver a digital marketing campaign are through push and pull strategies. In push strategy the marketer takes care of everything from idea generation to execution, while in a pull strategy the consumer plays an active role in seeking out information & telling the marketer what they want. For instance, if you own a clothing store and want more people to walk in and buy your products, you can use push strategies like Google Adwords (to promote your brand on search engines) and newsletter blasts (to send deals & advertisements directly to your customers' inbox).
On the other hand, if you run an eCommerce website and let consumers add products of their choice to their cart before they check out then it is a pull strategy.
How can it benefit businesses?
Industry experts agree that marketing is shifting from traditional to digital and for good reason. "Marketing and advertising spend in the U.S. alone was $1.2 trillion in 2015, according to research firm Advertiser Perceptions, and continues to rise at a rate of about 3% annually," said eMarketer researcher Monica Peart when asked about how marketers can meet their spending targets.
Digital marketing provides businesses with an abundance of data on consumer behavior which helps them make informed business decisions such as how much they should spend on a campaign and where they place ads across the web. "The ability to track their consumers' behavior and measure return on investment (ROI) has enabled businesses to become more sophisticated in their marketing, sales & customer service strategies," says Lisa Phillever, chief marketing officer at Quantcast.
It's not an easy task for marketers to promote a product using digital channels such as mobile applications or websites because of the plethora of options available today. For beginners, it makes sense to start with online search ads since consumers usually research products and services before buying them online. Social media ads may seem enticing, but they are expensive and time-consuming compared to search engine advertisements. Paid search is another effective way of promoting your brand online and increasing traffic to your website. Let's go through the stages that you need to complete in order to use digital marketing effectively.
Find a niche and stick with it
There are many different digital marketing categories or specialties available to help businesses reach their target audiences. For example, this company specializes in treatment center SEO for facilities that treat addiction and aid recovery. Others may target small business owners to help them find fashion brands that cater to the demographicin their late 20s.
According to the experts, the most successful companies are those that have identified one specific niche market where they can cater exclusively to their audience. For instance, a real estate agent may initially advertise on Twitter and Facebook and later start using Google Adwords because it takes time before social media followers start generating business for you. With Google Adwords, however, clients type "real estate agents" into the search engine and your ad pops up so you can contact them immediately.
Build your online presence
Once you have identified a target audience, you should set up a website/blog and create social media accounts where customers can follow your business. Your posts should look professional enough to engage readers and must be informative so that they trust your information.
Create content
Your website or blog should contain useful articles about your niche so that visitors get an idea of what you do. For example, if you are a wedding planner then write "How to choose the perfect venue for your wedding?" on your blog because people usually search for such information on Google before planning their special day and it will help them in making an informed decision when choosing between venues. This is called "content marketing" — creating attractive digital content that engages audiences and encourages them to visit your website.
Promote your business on social media
Most people use Facebook and Twitter to express their opinions about products and services so that friends/followers can also check them out, these sites can be instrumental in helping you connect with potential customers. Social media is a powerful way of promoting businesses by sharing information with people who might be interested in what they offer. "Social media helps companies develop brand identity & gain insights into the needs of their target audience. It also enables them to communicate quickly and directly with everyone who has an interest in their products or services," says Madsen Berger who is the head of social media at Wunderman Singapore.
Market your product carefully
Once you have built a good reputation for your brand on the web, you can promote your products or services to a wider audience by using Google Adwords. You can choose between "Search Network with Display Select" where ads are shown on websites and search engines or "Display Network only" where they are shown on more than 2 million sites that display relevant content. Ads should be carefully targeted so that only those who are interested in what you offer will see them.