The gaming industry is always changing. One day people are loving Pokémon Go, the next day the craze moves on to PUBG. Whether you are a kid, eager to learn the ins and out of all games possible or an avid gamer looking to explore new games, the fact remains that there are always new games to play.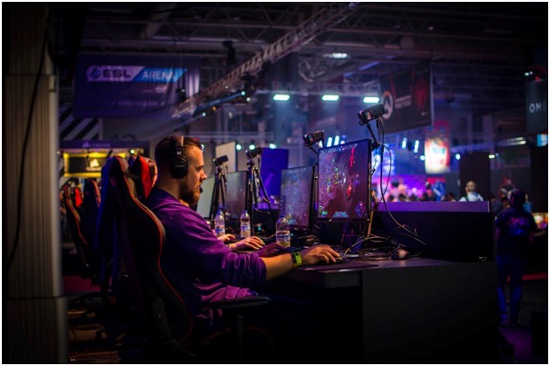 According to Statista, Nintendo continues to dominate the gaming sector by having a brand recognition of 65 percent in the US, while the global industry had a worth of 115 billion US dollars in 2018!
But, does this mean that all the games available are great?
Not all games are worth your time and effort. While others provide such excellent experience that all must try them. How does one differentiate between the two, without playing them?
This is where we come in. To save you from the hassle, we have reviewed and compiled a list of best games for you to choose from!
1. The Witcher 3: Wild Hunt
You might be thinking, why is The Witcher 3: Wild Hunt, on top of the list? After all, it was released four years ago! Well, even though it has been long since the game hit the market, it has managed to keep gamers hooked.
People who have yet to try this game are likely to find it addictive. Compared to other open-world games, this game is undoubtedly better. Why? This is because it has all the right ingredients. Whether it be the plot, jam-packed action, or excellent graphics, The Witcher 3 gets it all right. This is why it is one of the best games out there, currently.
2. 9 Ball Pool
There are always some people in the crowd who appreciate the simple things life has to offer them. For such people, graphics and storyline may not matter. For them, playing a game is about relaxing.
One game that has withstood the pressure of time is snooker or ball pool. There are various versions of such games available. One is offered by Unlimited Gamez Mo. It is called 9 Ball Pool. Compared to other online games, 9 Ball Pool runs much more smoothly and hence might be a favorite of some.
For those of you who do prefer such simple games, the same platform is home to an extensive range of elementary yet addictive games. Try any, and you will surely find a cure for your boredom! However, don't expect too much when it comes to graphics. But you can rest assured that these promise unmatched entertainment.
3. Dark Souls 3
On one end of the spectrum, some people like simple games like 9 Ball Pool. On the other end are people who prefer things that challenge them to the core. For such people, Dark Souls 3 is the perfect game.
Available on PS4, Dark Souls 3 is the perfect sequel. It takes all the elements its previous version did correctly and combined its features that worked for popular games like Bloodborne. And voila, you have a complicated yet thrilling game!
The first time you play it, you are bound to feel clueless. The combat system is not for the weak. Casual players will be out of the game before they can even figure out what hit them. But, gamers who know how to delve into complex fictional combat will surely succeed in the game.
You can play this game on Play Station and PC alike. This is a breath of fresh air in the Dark Soul community. This is because the previous versions weren't precisely PC friendly.
4. Monster Hunter: World
The chances are that most gamers haven't heard of Monster Hunter. Most of you will be surprised to now that Monster Hunter features quite an extensive franchise! And yet, it has gone unheard and unnoticed for years.
Why?
This is because the game never had the oomph factor in making it to the mainstream gaming industry. Well, the curse is surely broken with this latest instalment. Monster Hunter: World did what all its ancestors couldn't do- break into the mainstream gaming community.
This game allows players to assume the role of a monster hunter, and hunt nasty monsters. Sounds simple, right? It is! What makes it so addictive is the simple yet challenging gameplay. Most players end up playing the game on loop.
Moreover, the game never ends. There is no definite storyline. Like you can keep on slashing fruits in Fruit Ninja, you can keep on killing monsters in Monster Hunter. Unless you get bored with the repetition of activities, you are likely to find this game quite exciting.
5. Fifa 19
Not every game we reviewed for 2019's list was worth it. And we found disappointments in places we thought we would never find! One of the biggest disappointments was Fifa 19. For many years, Fifa has been the frontrunner of football games.
People expect a lot from it. This is why the game failed to leave a mark. The career mode of the installment was the same as before. The momentum continued to be an issue, even if comparatively less frequently than before. And the Champion League Styling was not appreciated by pro gamers. Although, it might succeed in attracting casual gamers to the video game.
However, considering the magnitude of the game, and the gamer demographics it caters to, merely targeting casual gamers is a severe flaw that might cause a massive blow to the franchise. But, things like no-rules mode, Ultimate team enhancement, and the graphics did act as a saving grace.
6. Anthem
Generally, games made by BioWare are amazing. This is exactly why we expected Anthem to be just as addictive and visually pleasing as other BioWare games. However, the game turned out to be quite disappointing.
The lack of any real content or story made the game quite monotonous. Not to mention that the missions all seemed the same. After a few missions, you are bound to get bored of it all. And this is never what one wants in a game!
Not every element of the game was bad. Flight sequences of the game were laudable. But, that was the only good part of the game. Apart from this, both the quality of the combat mechanics as well as the storyline did not live up to expectations of many.
While the game had greater potential, lack of proper execution, and thought process made it into one of the biggest disasters of 2019.
7. Lego Movie 2 Videogame
The LEGO movie did great on the charts when it was released. Subsequent games that followed it were also well received by the masses. Hence, many expected LEGO Movie 2 Videogame to continue the legacy as well.
But, the fact that this game didn't bring anything new to the table meant that it wasn't a good contender for our list of best games. Instead, the game was quite the same as the previous ones. And not in a good way either.
All problems that were noticed yet ignored by gamers in the previous installments persisted in this version too. Whether it be a disjointed plot, boring battle style, and an overall dull open world, LEGO Movie 2 failed to leave a mark.
8. Layers of Fear 2
Horror is one genre in-game that has quite a selective audience. Not everyone wants to be scared when they are trying to relax. But, this doesn't mean that the market for Horror games is absent. A lot of people around the world appreciate such gameplay.
This is why games like Layers of Fear were very popular when they came out. Out of the many games in the market, the first installment of the game was one of the few that managed to do just to the genre.
However, its recent sequel failed to live up to the magnificence of the first one. While Layers of Fear got the surprise factor right, the second version felt like a checklist of all cliched horror tropes. Back to back not-so-scary scenes are added to the gameplay. For most people, these won't even cause you to startle.
Hence, in the creative department, the game lacks big time. On the other hand, its soundtrack and visuals are excellent. Since there is a lot more that goes into creating a memorable gaming experience, such plus points are not enough to save the game from the wrath of gamers.
Verdict: Play and Decide
The best way to gauge which game is the best escape for you is by playing it. It is possible that you don't feel the same way about a specific video game as other people. We have reviewed some of the most talked about games.
Some were good. Some weren't. But, your opinions might not necessarily match ours.
Therefore, try each of the games out and decide for yourself. Are there any other games we missed? Tell us what to review next!