Outdoor spaces play a very crucial role in determining the lifestyle and the effect that it will leave on people when they visit your house. Patios in Brisbane are trendy due to the subtropical paradise kind of weather. It means that there is sunshine all around the year with decent temperatures. It makes people want to spend some time outdoors, which is why patios help improve that outdoor experience of yours.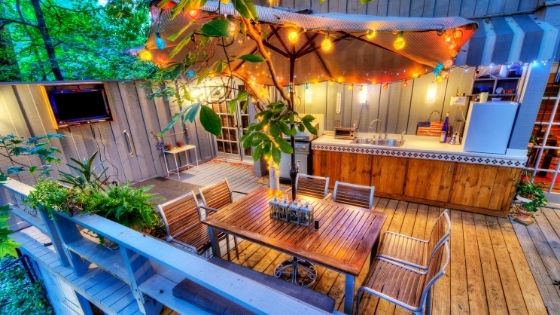 Gives a Personal Touch
New houses are built fast, and as a result, they may lack a particular personalised feel. You may make your home seem more like a home by constructing an outdoor living area tailored to your unique likes and needs. Your individuality will be reflected in your home.
Perhaps you want a patio where you can have BBQs with your pals on the weekends, but you also want it to be a lovely way to unwind with your family. It's critical to think about what you truly want to do and how something like a patio can improve the quality of your life.
A customised patio allows you to enjoy your home environment in new ways, but it all begins with the style. During this personalised design stage, sellers assist you in taking your idea and turning it into something quite tangible that is precisely what you desire.
Increases Value of the Property
There are several reasons why building a patio on your home will increase its value. To begin with, the materials utilised in the building are valuable. Second, the patio's beauty will affect the lifestyle, which contributes.
The more attractive concepts included in the patio's design and construction, the higher the value. If your property ever goes up for sale, potential buyers will value it depending on the materials utilised (strength) and how they feel about it. A beautiful setting makes people feel good, which allows you to negotiate a higher selling price.
Outdoor patios, outdoor entertainment areas, and kitchenettes are trendy, and Brisbane is expected to expand as a city with a distinct outdoor culture. This is one of the sorts of things to think about when you construct your patio.
Reduces Lawn Expenses
Having a well-kept lawn is attractive, and many individuals are devoted to their lawn. For some, though, the amount of effort required to maintain a perfect lawn might be taxing. A patio is simple to maintain, so having one built may have the extra benefit of decreasing the amount of labour necessary to keep your grass.
In low-lying locations, the patio may be a great place to watch the rainfall without having to stand in the muck. It will allow you to be high and dry while admiring the beauty of the occasion.
Space to relax and chill
It's vital to take some time out after work to relax. While being inside a beautiful home is terrific, going outside provides something unique. A patio allows you to enjoy the spaciousness of being anywhere without being bothered by the sun or rain. You would be able to benefit from the peace of mind in virtually all scenarios.
Multipurpose
Various rooms in the house are often specialised, but the benefit of a patio can be utilised for various events or purposes. Of course, the primary purpose is to experience the patio any time of the day or night, rain or shine. A patio may easily be transformed into a dining space for your household, a BBQ area for a get-together, a place to come and relax and watch the sunset, a place to relax with your friends or anything else you can think of. It is entirely up to you!
Many companies sell their patios in Brisbane online and help you choose the correct one for the outdoor space for your house. It will lift the appearance of the home and give a feel-good and relaxing atmosphere to the home.