Balconies can be a great way to add living space to your area, but don't get the attention they deserve. Whether you're a homeowner or renter, there are plenty of ways to turn your balcony into a beautiful outdoor oasis.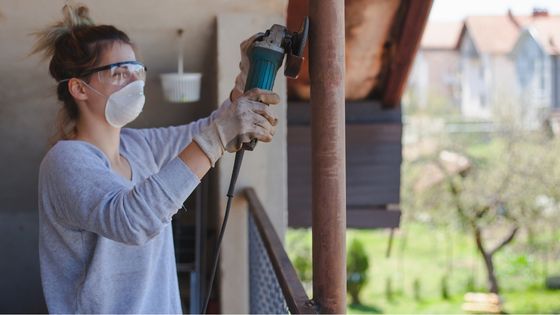 From adding colourful planters to swapping out furniture pieces to adding balcony flooring, these six balcony renovation ideas will help you create an outdoor space that is sure to impress.
1. Add Colourful Planters
Adding planters filled with bright flowers and foliage is a great way to take a dull balcony from blah to beautiful. Experiment with a variety of shapes and sizes for the planters, tall, cylindrical containers are great for making a balcony feel larger, while small, round ones help add texture.
When selecting plants, consider what will thrive in your climate; depending on where you live, that could mean any number of lush greens or vibrant blooms. In no time at all, you'll have an outdoor space that looks as lively as it does inviting!
2. Swap Out Furniture Pieces
If you need to make the most out of a limited space, multi-functional furniture should be at the top of your shopping list. Not only does this type of furniture save you valuable inches in an already crowded room, but it can also do double duty.
For instance, consider a bench with storage compartments as an alternative to a larger dresser or armoire, not just to provide comfy seating whenever extra guests come over, but also to give yourself and your family extra storage without taking up too much room. Wooden tables with built-in shelves or drawers are also great options for cleverly hiding away items.
By making these thoughtful investments in space-saving solutions, you'll be able to enjoy entertaining in your home with ease while still showcasing all those knickknacks and mementos that add a bit of personality and flair.
3. Hang String Lights
String lights are an effortless way to transform any outdoor space in a matter of minutes. The concept is simple; hang twinkling strands from poles or posts and then sit back and admire the atmosphere you've created.
Warm and inviting, string lights provide that perfect touch of ambiance for a cozy evening on your balcony. From romantic globe lights to stylish designer Edison bulbs, string lights have become a sought-after addition to outdoor decor.
4. Create Seating Areas
Making the most of a small space such as a balcony can be difficult but breaking it up into distinct areas can help to maximize and personalize the space. One great way to do this is by using rugs or other floor coverings; these not only add style and a sense of warmth to the area, but also create different 'zones' for lounging, dining, and entertaining.
This will allow you to get more out of your balcony by encouraging you to use each zone for a specific purpose, so you no longer must worry about cramming everything in one area!
5. Paint Your Walls/Floors
Giving your balcony an update can be as simple as applying a new coat of paint. Using bold colours and patterns such as stripes or chevrons can add style, texture, and dimension to the space without taking up too much room.
In addition to adding aesthetic value, painting balcony flooring or walls can also help block out neighbouring balconies eye-lines, reducing privacy concerns in apartments and condos. Be sure to speak with a condo renovation expert like Designer Deck for anything involving your balcony. With some elbow grease and colourful hues, a dull balcony can be transformed into a cozy outdoor oasis in no time.
6. Add Wall Art/Decorations
Decorating blank walls with items that reflect your personal style can have a huge impact on the overall atmosphere of your living space. Consider hanging framed prints with artworks or quotes you adore, strings of beads to bring some extra colour in, vintage mirrors that add a cool vibe, and even plants from the ceiling or walls if you don't have enough room for them on the floor!
Not only are these stylish alternatives to traditional wall art; they will instantly turn your place into a cozy oasis that truly expresses who you are.