A mangalsutra is every Indian married woman's pride. It defines their holy bond with their husband. It signifies an auspicious thread, worn around the neck, symbolic of uniting two souls who have pledged to live as a couple.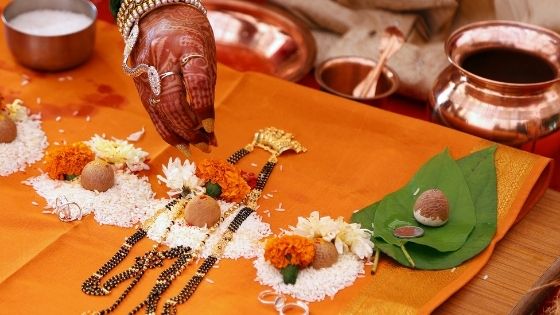 Typically, the groom ties this auspicious thread, consisting of black beads and a pendant, around the neck of the bride on their holy weddings, which makes their bond special and auspicious.
Different Types of Mangalsutra
A Mangalsutra set can be of myriad varieties, available in different lengths, metals, stones and beads. Mangalsutra is believed to originate in South India, but its name and style change depending upon the community and caste of the concerned.
It is called a Thaali or Thirumangalyam in South India and consists of a yellow thread with a gold pendant representing the Supreme Goddess.
In North India, the mangalsutra comprises mainly black beads chain and a pendant made out of gold, diamond, or even coloured stones. It is called a Tanmaniya, and it comes in various designs.
However, when choosing a bridal necklace set, there is a wide variety of designs in Mangalsutras select from. They are:
Solitaire mangalsutra- It generally consists of a chain with black beads and a solitaire piece in the middle that looks chic, contemporary and appealing.
Flower mangalsutra- This one has a black bead chain and a flower pendant, perfect for a working woman to wear every day.
Minimum glam mangalsutra- This is a minimalistic mangalsutra, consisting of black beads and a small pendant in gold that can be worn off with anything, anytime.
Personal touch/personalised mangalsutra- These mangalsutras can be designed in anything from star signs of the couple, initials of their name, or anything that they would want as a symbol of their long-lasting love.
Meenakari mangalsutra- for those who love traditional designs, meenakari mangalsutras are best for them. These Rajasthani designs and colours can add a touch of tradition and personal preference to your mangalsutra set.
Long-chain mangalsutra- For women who want to flaunt their mangalsutra over every attire, a long mangalsutra with a small pendant at the bottom is the right pick for them as they can wear it over any Indian attire as much as a western one too.
Mangalsutra bracelets- The latest trend in mangalsutras is to wear it as a bracelet around the wrist instead of a necklace around the neck. These bracelets have black beaded chains adjoined with a charm piece or pendant.
Gemstone mangalsutras- With a black bead chain, one can opt for a gemstone pendant in different colours and shapes, either with a long or a short beaded chain.
How to Choose the Right Mangalsutra?
When choosing a mangalsutra, you need to keep many things in mind. Some of the things you need to note before buying a mangalsutra set for your D-Day.
Make sure you abide by your cultural requirements and choose the one that fits in best with them.
Go in for a versatile design that can be worn as much with an Indian attire as a western one, for a formal or casual gathering, and even as an everyday office wear ornament.
Choose the perfect length, the standard one being 16 inches. However, those looking for a longer length can opt for 22 inches or a maximum of 36 inches.
Pick your pendant in a versatile stone that you want, with a design with studs of diamond or gemstones or meenakari, as per your preference and choice.
Decide upon the metal in which you want the mangalsutra to be made, and that would sketch up the budget for you. You can choose metals like yellow, white or rose gold, silver, platinum, etc., depending on how much you want to spend.
Pay attention to minute details like the quality of the chain you choose for your mangalsutra, the quality of gemstones and diamond for the pendant, and do not forget to get the gold hooks attached at the back. The clasp should be sturdy and of high quality.
Where to Buy Mangalsutra From?
You can either go to a physical store or opt to buy mangalsutra from various digital portals available online. One of the best places to shop for mangalsutra sets and bridal necklace sets is the Snapdeal website.
There are various designs in different metals, from floral patterns to drops, clustered, stone encrusted, zig-zags, chokers, and offbeat patterns like the layered design. Mangalsutras made of alloy, American diamond, brass, copper, etc., in classy patterns is available too.
Why Buy From Snapdeal?
Snapdeal is a one-stop online store for all your bridal jewellery and mangalsutra sets. It offers a sea of options from the comforts of your home at your convenience.
What's unique about this online store is that you find amazing offers and deals at the most competitive prices, and the quality and branding of the products are 100% authentic, guaranteed, and tested.
Moreover, there are easy return and exchange policies, cash on delivery options, and secure payment modes through online gateways, which are safe and secure. So wear your style with confidence by shopping for the best mangalsutras from the Snapdeal online portal, available all under one roof.