Social media has become an essential part of everyone's lives, and video sharing is integral to Facebook, Instagram, Twitter, and other online communities. The internet has enabled millions of people to share their videos with the world in ways they couldn't have even dreamed of ten years ago.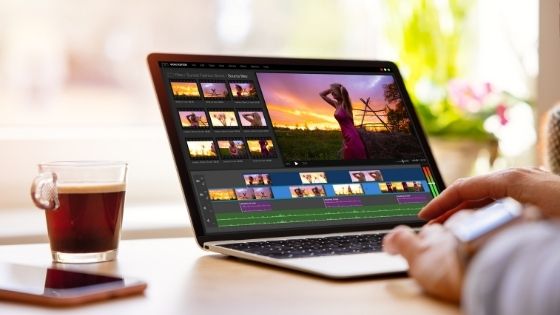 With so many different social media platforms to choose from, it is not easy to figure out which one to focus on when you're trying to build an online presence and planning out your promotional video ideas for social media platforms.
But one thing is definite: the demand for video content has grown exponentially.
Many brands are including videos in their marketing strategy. However, while we've seen a lot of growth in the number of businesses and brands using video, many aren't seeing the results they want. This is because they don't have the right tools to create videos that can be easily embedded on sites like Instagram, Facebook, Twitter, or YouTube.
Luckily, several excellent video makers are available online that make it easy to get your video content out into the world while still looking polished and professional.
In this article, we will look at the seven best video makers free for social media so you can get started today!
Magisto
Magisto specializes in making short videos that are perfect for social media. It is incredibly simple to use and create, so you can focus on making great content rather than stressing about how to edit your video.
When you upload your video through Magisto, it analyzes what's in it and helps auto-create a final product that includes music and titles. The result: a beautiful short video you can share anywhere! They also have mobile apps available for iOS and Android.
Magisto has also added an Instagram Story feature for those who use Instagram regularly. This feature allows you to create unique and interactive stories conveniently. The Instagram Story feature lets you automatically create an Instagram Story from a saved video in your camera roll.
You can choose which parts of your clip get included (the beginning or end, for example) and easily add text to captions. And best of all? You don't need any fancy equipment or editing skills—just shoot some footage with your phone and hit save!
Animoto
Animoto lets you make professional-looking videos without having to know about any video editing software. Simply choose a template, add photos and video clips, and watch as Animoto creates a custom soundtrack, complete with music and text effects.
You can even select specific frames in your video that you want to have animated.
But what really sets Animoto apart from other DIY video makers is its integrated social media sharing platform. Once you've created your video, simply upload it to Facebook or YouTube (or both) along with some information about yourself and where people can find more of your work online.
Then sit back and let Animoto do all of the hard work for you!
InVideo
InVideo is a good option when choosing video makers free for social media. It makes it super easy to create professional-quality videos to post on social media, regardless of how tech-savvy you are.
With over 5000+ templates and 9MN+ premium stock videos, InVideo provides everything you need to produce an engaging video in minutes, not hours or days. This has been made possible by the company's deep investment in artificial intelligence and machine learning technology, which allows InVideo to predict users' needs based on their previous actions and suggest the most relevant content accordingly.
InVideo is a powerful yet simple-to-use tool that lets you create professional videos using only your smartphone—no expensive equipment or editing software required. It's pretty easy to use InVdeo to create great videos. All you have to do is download the app onto your phone, log in with your account, and begin creating a video!
Filmora
Filmora is a go-to video editor for many. While it's not free, you can download a free trial and test it out before making your purchase. You can upload a video directly from your computer or phone or import one from YouTube.
One of the best features of Filmora is that you can easily add text to your video. Once you have everything in place, click Create Video, and Filmora will do its thing. It will automatically save your video to your computer in HD when it finishes editing.
Another fun feature about Filmora is that if you want to change any of your edits after creating them, all you have to do is double click on any clip or section within your video and edit away!
This program even allows you to add music and insert photos into your videos.
Biteable
Biteable's easy-to-use video editor comes packed with professional features, including background music, transitions, and filters. It also allows you to insert text and animations into your videos, which is a great feature if you want to add some flair to your content.
Most importantly, Biteable is integrated directly with all of Facebook's features, making it easier than ever to post and share videos on your profile. The app also has an excellent customer support team that can help you get up and running in no time.
This app is available for free on iTunes.
iMovie
Apple's iMovie is one of the many consumer-level video editors out there. It's aimed at those who want to try their hand at editing but don't have any professional experience.
As such, it has:
A pretty basic trimming tool called SmartTrim
An audio mixer that gives you control over volume levels
A video effects module that offers things like picture-in-picture editing, transparency, and other effects
The software also supports third-party add-ons.
iMovie doesn't support very high-resolution videos, so its HD clips are capped at 720p. Also, you can only edit projects with a maximum length of five minutes; any projects that are longer than that will be automatically exported as QuickTime files when you finish editing them.
Powtoon
Powtoon is a cloud-based video editor that makes it easy to create animated videos. It comes with 100+ built-in templates and a host of tools such as fonts, speech bubbles, preloaded images, a music library, and royalty-free sound effects.
With Powtoon, you can edit videos in your browser or upload them directly from your computer. Creating engaging animated videos has never been easier!
The best part? You can use Powtoon's free account to create videos right away. Once you're ready to upgrade, there are three affordable paid plans available: Pro ($9/month), Business ($29/month), and Enterprise ($59/month).
The Bottom Line
Video marketing has become an integral part of social media marketing. From Facebook and Instagram to Twitter and Pinterest, video marketing has helped brands and organizations reach out to consumers in new ways. These video-making skills are also important for businesses to enhance their marketing strategy and stand out in a digital space.
If you are looking to add more videos to your social media marketing mix, the seven video makers discussed above will help you do just that!