If you have very short or thin hair, hair extensions are the best way to give you that extra length and volume and create different styles.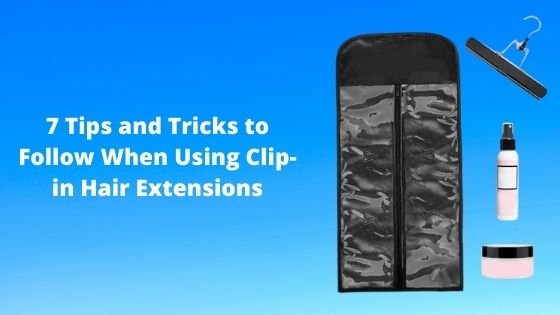 As first-time users, it is common to fumble when using Clip in hair extensions correctly. This article will help you quickly transform your hair into bouncy, voluminous locks within no time.
What are Clip-in Hair Extensions?
According to a Forbes article, the global hair wigs and extension market will reach $10 billion by 2023.
Clip-in hair extensions give you thicker and longer hair within minutes. Luxury clip-ins are made from 100 percent Remy human hair. Hence, you can easily wash them, style them with heating equipment, and blend them with your natural hair.
The best part about using these extensions is they are pretty easy to wear, as long as you follow the instructions. These temporary wigs come with clip-in wefts, which you can simply attach to your natural hair.
It saves you the extra time and cost spent visiting a professional hair salon. Clip-in extensions are easy to maintain. You only have to brush them to remove the tangles and wash them with shampoo and conditioner to keep them clean.
These are incredibly flexible. You can use heating tools like straighteners and curling irons to style them in different patterns.
Seven Tips to Use Clip-in Wigs in the Right Way
Here are the top seven ways to make the best use of clip-in hair extensions.
1. Detangle and Dry your Natural Hair
Before you use extensions, it is essential to detangle and keep your natural hair dry and frizz-free. Similarly, you must also brush your hair extensions and keep them tangle-free before wearing them.
One way to maintain them for a longer time is to use a good quality hair serum to maintain the gorgeous sheen. It will prevent breakage and keep the hair intact.
2. Use The Right Wefts to Attach the Extensions
Most clip-in hair extensions come with two or three wefts for the back of your head. You must place the smallest weft from the back of your head and start increasing the size.
3. Partition the Hair Properly
You must first section the hair properly before you place the wefts. If you have fragile hair, you must tease the hair you are attaching the clips to. It lets you place the extensions perfectly, helping them look natural.
4. Style Beforehand
One of the best ways to use a clip-in hair extension is to style it before you attach them to your head. You can use a texturizing spray to give a natural look and help it blend with your original hair color.
5. Stack Two Wefts Together for Faster Application
If you're rushing to work or just have a smaller head, then using double wefts together can be faster and easier to do. Also, it works well if you are wearing a half ponytail or a fancy updo.
6. Color your Hair Extensions
If you use hair extensions made with 100 percent Remy human hair, you must bleach and color them before use. It will help them match your natural hair color.
7. Remove the Clip-in Extensions Before You Sleep
If you go to bed wearing your hair extension on, it will damage both your scalp and your hair. Hence, hair professionals will recommend removing them before you hit the bed at night.
Clip-in extensions are an excellent way to add volume and length to your hair without damaging it. You can get them in any style or color, from classic Hollywood waves to trendy buns. If you have long locks but want the 'short on one side' look for summer parties, clip-ins can help with that too!
They're easy to apply and remove, so they won't be a burden if you only need them only occasionally. The best part? Your real hair will still grow when you're wearing hair extensions because there's no glue involved.