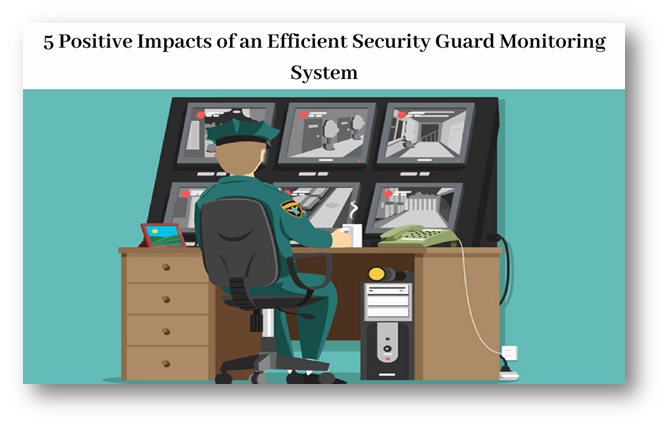 Do you own a security company? Are you in charge of providing quality security services to your clients? If yes, then you might know that managing security team isn't always easy. From fulfilling promises on time to holding accountability of your officers/guards, and the ability to provide hinder free services are quite sometimes not possible. However, you can ensure that your company is offering quality services to the clients by taking the help of a security guard monitoring system. It has the ability to benefit your business in a number of ways. Without saying much, let us head straight towards how it can have positive impacts on your business:
1. Accountability of guards:
One of the prime benefits of a security guard monitoring system is holding the accountability of your guards. Holding an accountability of all your guards on duty and ensuring that they are doing their duties properly is one such issue that requires a technical support. Such a monitoring system takes care of:
Timekeeping
GPS tracking
Electronic checkpoints
Sending automatic alerts and more
Even if the officers fail to perform their duties, the manager in-charge is informed about it for taking appropriate actions against it. This way, it gives a piece of mind to the clients as well as the higher authorities.
2. Fast Reporting:
Your guards may be doing their job on point, but what if they have something to report about but they cannot due to delay in reporting? Such a scenario may arise and it requires a mechanism through which your guards or officers can communicate the incidents instantly to the higher authorities. A security guard monitoring system provides real-time reporting facility to accomplish this.
With the help of real-time reporting, guards can report the incidents by uploading pictures or videos of the site. Thus, information can be transferred to and fro between them and managers quickly. This easy access to information avoids any unforeseen situations and further informs clients about it.
3. Reliability and Safety:
Consider a scenario in which thieves just entered your client's property. In the worst of the situation, it might so happen that before your security guards could inform about the event and stop them from robbery, they have vanished from the site. How will you provide reliable services to your clients in such cases? But yes, the situation could be different if you have a mechanism to record videos or take pictures of thieves further allowing you to track them down and enforce the laws.
Also, what is the guarantee of your security guards' safety without any proper tracking mechanism? What if one of your guards fails to arrive at a checkpoint and you don't know about it? The guard might have required a medical safety or help from other guards. A simple push notification from a guard monitoring system can inform about this checkpoint arrival failure to assist you in taking further actions.
4. Streamlining the functions:
When you a large team of guards doing their duties in several different geographical areas, it is required to have a software system for streamlining all the functions. A security company performs a number of back-office operations like scheduling shifts, reporting clients, having communications with guards and a lot of other stuff. It may sometimes create a havoc to handle such functions without any technical assistance.
The security software can simplify all the back office work by automating these tasks. It automates scheduling, avoids scheduling errors, miscommunications, and other issues that can cause a hindrance in offering quality services to your clients.
5. Ease of data access:
With the traditional paperwork, you and your guards might have to go under a lot of pain to have an access to the data and manage daily tasks. Having to report each and every incident using pen and paper could be time-consuming as well as mundane for your guards. Similarly, one might have to go through a number of papers to have an access to a particular report. But this can be avoided using the software.
With updated data available within the reach of your fingertips, you can easily perform other important tasks. This ease of access to information allows you to focus on your team's strength and weaknesses. You can divert your focus towards improvising the areas where you fall short. Also, planning of future events becomes much easier with the readily available data.
Conclusion:
From holding accountability of the guards to streamlining daily tasks, a security guard monitoring system is capable of doing much more things. It is now possible to gain an edge over your competitors using such software systems. It will not only simplify the work of providing quality services to your clients but also help you sustain the competition in the long run.