Many home renovation projects will require the services of a crane — from landscaping to large tree removals, roofing to a second floor addition — certain projects will go much smoother by working with the right crane hire services.
There are many benefits to be gained by using the effectiveness of such specialized equipment. Crane rental services make everything onsite safer and get the work done more efficiently. This means your home renovation project can be done with faster, hassle-free construction procedures.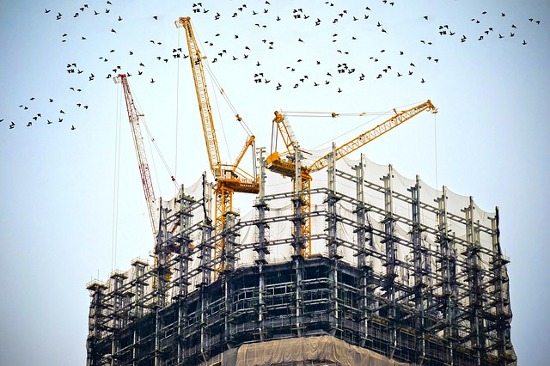 Another significant benefit of working with a crane hire company is their years of experience. Their professionalism will ensure you have correctly trained professionals onsite as well as the right equipment to get the job done.
By using the right crane rental services, you gain access to specialized construction support. This can include specialized cranes like self-erecting cranes and mobile cranes. These types of cranes are the perfect equipment for flexible and short duration projects such as home renovation.
If you're ready to start contacting a crane hire to assist with your next home renovation project, read on. The guide below will make it easier for you to hire the right crane company for your project needs.
1. Start with recommendations
As a homeowner, you undoubtedly know a person or two who have gone through the process of planning and executing a home renovation project. This is where you should start your search to find the right crane hire company. Another great resource is your realtor, a trusted building inspector or a reputable builder.
You want to make sure you work with a crane hire company that does quality work on time and within budget while also meeting code requirements.
2. Create a short list of candidates
Once you've received references from several experienced people, it's time to create a short list of candidates. The crane hire companies that get recommended to you should then be interviewed.
When you start making your initial calls, be sure to ask the following questions:
What is their range of experience in terms of general construction and home renovation projects?
Can they give you a realistic timeline for your project?
Have they worked on a project of your size in the past?
Are they licensed and insured?
Do they know the specific code requirements in your area?
Are they working on other projects at the moment? How many?
When making your rounds of inquiries, you should also ask if they will be comfortable providing you with a list of previous clients. You can use this list to perform background checks on their performance in the past, and whether or not their previous clients were satisfied with their job performance.
3. Investigate their range of services
If you've never used the services of a crane hire company before, you may be unfamiliar with the equipment you need. Certain home renovation projects will require specific crane types. A self-erecting crane, for example, is a great tool for a project such as a second-floor addition.
Crane hire specialists can provide you with a detailed list of options available to you. Even if you don't know what you need, their knowledge of the trade can point you in the right direction. They will ensure no detail is overlooked when you require their services.
4. Prioritize safety
When you contact a crane rental company in your area, inquire about making a site visit to inspect their cranes. The right crane hire company for your project needs will discuss with you their service and maintenance schedule. They will even guide you through a thorough safety inspection.
A good crane hire company will also have no problem showing you their company registration as well employee certifications. Cranes are specialized heavy machinery so they can only be run by licensed crane operators. Also, make sure the cranes are maintained well. These heavy machineries need replacement of parts like kubota fuel cap time to time for them to work efficiently.
5. Examine the contract thoroughly
When partnering with crane hire contractors to carry out construction work on your home, you're agreeing to a binding agreement. The contract should stipulate all the terms and conditions of the crane hire in clear detail. It should spell out exactly what will be done, the time-frame, payment schedule, and specific crane services.
Always ask questions if you have any concerns regarding the contract. Likewise, if any addendums are required, get them in writing. This will safeguard both of your interests, especially yours, as partners in your home renovation project.
Lastly, never allow yourself to feel pressured to sign a contract. Take your time and assess everything — the services offered, experience, equipment, professional certifications, schedule, manpower and cost. This way, you will be sure to end up with a trustworthy crane hire company.