It is easy to get caught up in one's daily routine and to forget about taking time out for yourself. This is especially true if you run your own practice. Attending to the mental healthcare needs of clients often leaves you to neglect your own and therefore incorporating simple strategies to uphold your health, balance, and well-being can encourage relaxation, stress management, and a sense of rejuvenation.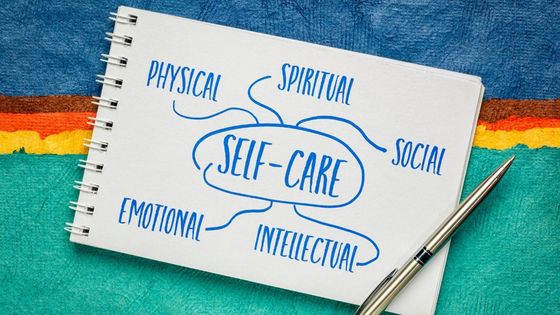 Everyone, regardless of age, can benefit from self care steps that help you take time out from daily stress and a mundane routine to make the time you need for a healthy and fulfilling life. We start by looking at a simple way to manage time out for yourself and it starts with only a few minutes of mental and physical healthcare per day.
1. Take Time Out for Yourself
What most of us forget to do each day is take just a few minutes out for ourselves every day. In practice, take at least 15 to 20 minutes each day for a break. It only takes 15 minutes to clear your mind by walking away from a pressing situation and choosing to refresh your mind and state of being.
If you cannot dedicate a few minutes to relaxing through the course of the day, set a time. At a certain time each day, you should stop whatever you're doing and simply ease into those few minutes that are yours and yours alone. You could choose time to relax early in the morning before you start the work day or late at night once your day is coming to an end. It is up to you when it's the best time to relax.
How you choose to spend this time is entirely up to you but it could include watching media on your PC, enjoying the outdoors, or performing meditation which helps with relaxation and both physical and mental balance.
Whether you are focused on behavioral, cognitive or even play therapy Toronto therapists are encouraged to find the time for rest, relaxation, and rejuvenation. Only a couple of minutes everyday can help you focus on your health.
2. Get Physical
An important part of maintaining both physical and mental healthcare is reconnecting with nature. Spending time with clients and in front of a computer screen for most of the day places strain on your eyes, your posture, and your regular health.
Whether summer or winter, step away from the desk or office and enjoy the fresh air that is right outside of your practice. In summer, this is easier because of the ability to walk outside and spend time enjoying nature or natural elements.
During a break, take a short walk to the local park on a sunny day or take a lunch break outdoors. Another important part of healthcare is creating a professional space that is conducive to your well-being. Bring natural light into the office and decor that not only uplifts your mood but that of your clients. When a client walks into an office that is bright, clean, and organized, it instantly creates a positive impression.
Along with incorporating activity and taking time to spend outdoors, self care is about incorporating a balanced diet. To help you sustain energy and fight fatigue, include foods that are wholesome, and drink plenty of water throughout the day. Water flushes toxins from the body and is a simple way to feel better.
3. Encouragement
Making physical changes from exercise and diet to spending time outdoors is incredibly important for your long-term well-being but staying motivated and managing stress. A simple technique to incorporate into your practice is to think about 2 or 3 things each day that make you feel good about yourself. If you feel overwhelmed, fatigued, or stressed, then taking a moment to reflect on your blessings and the positive things in your life can help you to feel motivated and move forward.
Final Self Care Thoughts
With practices including cognitive, behavioral, and even play therapy Toronto communities can benefit from strategies that encourage balance, mental health, and the ability to cope with life's challenges. In practice, self care is about incorporating both mental health and physical improvements that support long term well-being and ensure that you put yourself first.