Childcare providers and early childhood educators know how to adapt for their students – and the pandemic gave them lots of opportunity to do that. Covid-19 required a complete pivot in how education is delivered to the youngest in our country. As a result, today's child care services provide a more flexible, safer environment for toddlers and young children to learn and play. In this article, we will explore some of the key trends from the past year.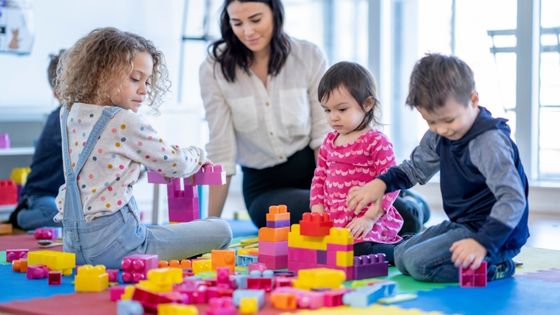 Flexibility Is A Priority
The old way of delivering child care service was effective but not necessarily flexible. Most children attended their early childhood education environment for a regular set of hours. But one thing we learned from the pandemic is that child care needs do not always fit into a 9-to-5 model. With working parents often on different shifts or working remotely from home, child care providers became more flexible. Add to this various pandemic protocols such as social distancing, and a normal day at the child care center took on a whole new look.
Flexibility in how child care services are being delivered extended into the administrative part of the operation. Child care service providers have found that because working parents' needs have changed, so must the structure of early childhood care. Examples of this include flexible scheduling and start times. This may mean child care for two or three days per week instead of five. Each family has different needs and flexibility helps to meet them.
More Emphasis on Health and Safety
Another carryover from the pandemic focuses on health regulations. Limiting direct contact between parents and teachers lead to innovations such as contactless check-in and check-out. Other daily health regulations to keep children, parents, and teachers safe and well include student health questionnaires and temperature checks to identify any potential issues early, helping to keep the learning environment safe for all.
Additionally, teachers are now adding lots of sanitizing to their checklists. Following the recommendations of the Centers for Disease Control (CDC), child care providers clean and disinfect all surfaces, play areas, meal areas, and changing surfaces no less than once daily. With more attention to health and safety, the risk of a child contracting something at a child care facility with other children is greatly reduced.
Demand Increases For Child Care
With working parents still experiencing changes in their work situations as companies attempt to return to pre-pandemic operations, the demand for child care has increased. Companies are trying to encourage employees to leave the work-from-home setting and adopt a hybrid work schedule split between remote work and time in an office setting. This is quickly making early childhood education an essential service.
Research shows that since the pandemic began in 2020, almost 20 percent of working parents quit their jobs. That was because they could not find suitable child care. This put tremendous pressure on child care providers ranging from nannies and babysitters to tutors and visiting teachers. Most public child care centers were closed due to COVID protocols that impacted public facilities and services of various kinds.
However, with the economy getting back on track, more parents are opting for returning to work. The result is an increase in the demand for high-quality child care. Plus, with various incentive programs coming from the federal government, eligible families are receiving the financial assistance they need to make child care affordable. For many returning to work, this is an important factor that will lead to more children requiring child care space.
Technology Plays A Bigger Role
Technology in the classroom is commonplace now. It will continue to provide a vital link. At the child care level, technology is used in many ways. It assists with data collection and storage, invoicing, and even teaching. For children unable to attend child care services due to illness or inclement weather, technology keeps them connected and learning through communication platforms such as Zoom.
Parents can maintain regular contact with teaching staff through text messaging or email platforms. Classrooms with video cameras installed permit parents to monitor classroom activities whenever they wish. Technology also enables child care providers the means to create lesson plans with ease giving them time to focus on other responsibilities. There are many positives to come from online access benefiting children and their caregivers.
More Companies Offering Child Care
An ongoing development in the childcare industry is on-site child care. This is when a dedicated space in an office building is set aside for child care. Much like some offices have an on-site gym to encourage employees to maintain their physical health while on the job, on-site child care services give working parents one more reason to return to the office and resume normal work hours.
The creation of on-site child care in the workplace offers a perk to working parents and is a tool to help attract and retain quality staff. It has been extremely successful in achieving these goals. For working parents with a lengthy commute to and from work, being able to drop children off in the same building rather than having to make an additional stop adds convenience. And companies offering on-site child care provide top-flight administrators and teachers.
Final Thoughts
There is no doubt that the pandemic has had a huge influence on many things we took for granted before the virus. One industry it impacted was child care.
Fortunately, the child care industry has come through the pandemic stronger than it was with trending changes that will further enhance the quality and delivery of the service. With many working parents returning to office settings, good, flexible, reliable child care is once again an important requirement. When parents are at ease with where their children are while they work, it increases their productivity and helps families stay strong and healthy.