Unfortunately, you may receive a Google penalty at some point. There are on page penalties and off page penalties. There are also manual and automatic (algorithmic) penalties.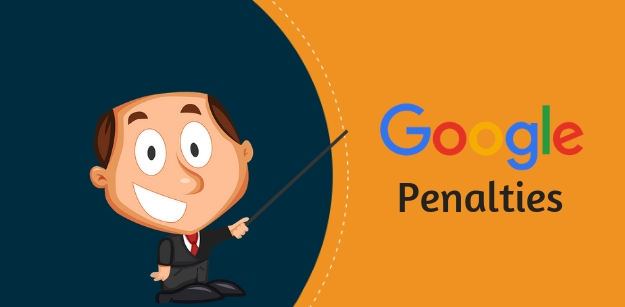 But let's start by talking about what penalties are.
What are Google penalties?
Google wants to provide quality and deliver what the searcher really wants. This search result should therefore offer the user added value. On the web, however, there are many junk scrap sites that are either link farms, spam sites, etc. Google just wants to filter and possibly even completely throw these sites out of the index, so that only the high-quality pages tend to rank higher. Therefore, Google is also constantly updating its algorithm so that it recognizes these sites. First and foremost, the algorithm is designed to track down and penalize pages that do not adhere to Google Webmaster Guidelines.
Types of penalties
As mentioned above, there are many different penalty types. I'll start with automatic (algorithmic), and manual penalties.
The algorithmic penalty comes about when the crawler goes over the page and finds violations of the Google Webmaster Guidelines. If you want to get rid of the penalty, all you have to do is remove the cause and the penalty will be gone the next time the crawler visits.
With the manual penalty, on the other hand, it looks different. Here are violations of the Webmaster Guidelines that have been found. This penalty has been given by a team that works for Google, the "Google Spam Team." This is usually imposed when the quality of the website is not correct and thus violates the Guidelines of Google. Both the experts and you can report to the spam team. For this you can use the spam tool from Google. In the case of a manual penalty with high impact, a so-called "reconsideration request" can be made.
On-page penalty
There are also on-page penalties. They include:
● Doorway Pages
● Keyword Stuffing
● Cloaking
● Duplicate Content
A on-page penalty, however, can be removed relatively easily. To get rid of Google's vicious punishment, remove your pages and methods created solely for the search engine, and look for good content. Your site should provide added value to the user and not just be optimized and readable for the search engine. Because in the end, you are speaking to a human.
Offpage Penalty
The Offpage Penalty is an extremely strong, time-consuming and difficult to recover penalty. Because it is not very easy to find the cause. Google does not tell you what you did wrong and what you can do about it now. Otherwise a punishment would not bring anything. That's why a lot of patience, time and concentration are needed here. The results of the work carried out can not be seen immediately, but only after days or even weeks, if one could even find the cause to begin with. Tracking the cause may well be the hardest task of all.
Off Page Penalties:
● Deep Link Ratio – Unnatural relationship between backlinks to homepage and subpage
● Link Velocity – building links too fast to a page or domain
● Quality of the backlinks – many high quality or inferior backlinks
● Anchortext – Over-optimizing on hard money keywords
● "Paid Link" Penalty – obviously bought and sold links
● Exchanged links – Unnatural linking, eg. B. Women's Apparel linked to an Insurance Agency
The cause of the punishment is hard to find. Because there can be several factors at once in play. Offpage penalties can be imposed in such a way that only certain keywords suddenly perform poorly. In the worst case, all keywords tend to be bad or all subpages are completely removed from the index. If necessary, validate your purchased and sold links, change your deep link ratio, do not build backlinks too fast, make sure you have a healthy backlink mix, exchange only relevant backlinks, and do not just link, diversify, and combine a specific keyword.
For more information check out Las Vegas SEO