What are the important things to look for in a full-size truck toolbox? We've summarized the critical stuff to make your shopping easier. Here's what you need to know: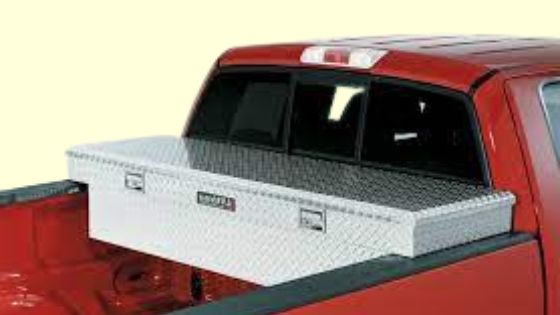 How to Judge a Toolbox
Toolbox selection can be personal; the right toolbox for you might not be the right box for someone else. Your weather conditions, your vehicle, and the type of gear but considering the Tools First you're stowing all need to factor into your final decision. That said, when shopping for a toolbox for your truck, look for the following:
Weatherproofing. If your toolbox springs a leak the first time you take it out on the road, your tools are gone just like that. Or if your tools come out looking like they've weathered a dust storm in the desert, you've got a problem. Weather tightness is one of the most important features of a quality toolbox.
Security. Protecting your tools is why you're buying a toolbox, and the weather isn't the only potential problem. Tools are expensive and are attractive to thieves and miscreants looking to score a quick buck. If your toolbox can be jimmied open with a crowbar, your gear is going to end up in a pawn shop. Solid security features are a must.
Durability. With all the quality aluminum and steel toolboxes on the market, it's reasonable to expect your toolbox to last forever. Or at least as long as the life of your truck.
Price. Most of us don't have unlimited funds to spend on a toolbox, but we also don't want to waste money replacing lost or damaged tools or other gear. Like anything else, toolboxes come in a range of price points, so you can find what you need at a price you can afford.
What to Look for in a Truck Toolbox
Let's be specific now about what characteristics to look for in a truck toolbox. Any box you buy should have the following:
Heavy-duty steel or aluminum
Welded construction
Weather-tight design
Weatherproof, tamper-proof locking mechanisms
One-piece commercial grade seal around the lid or door to keep out dust and water.
Full-length piano hinges to keep the door moving smoothly in any conditions.
Easy-open doors
Corrosion-resistant coating on steel boxes
Available accessories for creating your own custom storage solution
The Bottom Line
Truck storage is critical; the costs of a truck cluttered with unprotected, unorganized gear are too high to justify skimping on storage. Start your hunt for the ideal work truck toolbox with the help of these tips today.