The Smartphone market is dominated by two platforms: iPhones and Androids. Some of the differences between them are obvious but others are not that commonly known. iPhone users who never used Androids, or vice versa, are often interested to know the major differences between them and find out the reason for this great divide. A lot of Android users are also looking forward to starting the use of iPhones, as these phones are now easily available with carriers on a plan. This makes the iPhones much more affordable as it does not hurt the pocket of the buyers in one go.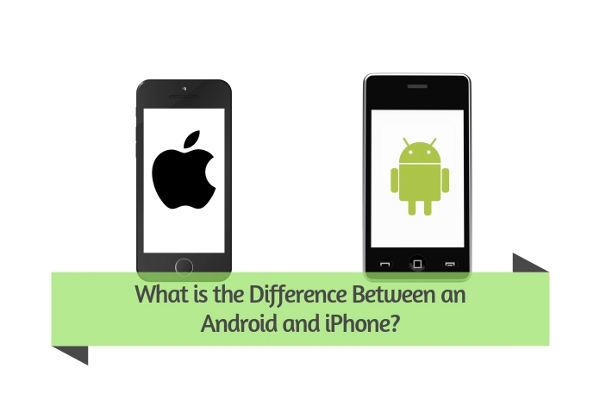 Difference between an android and iPhone
a)    Manufacturer of the hardware:
The major difference between the Android phones and iPhones is that of the manufacturer. iPhones are solely managed by Apple whereas Android is an operating system which is made by Google. It is open source which means companies are free to modify the software as per their needs and way of development. They can customize and sell it. This the reason why the hardware of Android phones is not managed by one company. Many big companies like Samsung, Xiaomi etc. make their phones using Android as a software platform.
b)    Chargers:
The charger used for Android phones comes in very few varieties. iPhone has a different charger altogether. Apple makes use of its own lightning port for charging the phone. People can connect different wires with that port, but still the company can have more control over what kind of charging cable people are using. This lightning port is not compatible with many charging wires. People who use iPhones generally have to carry their chargers with them. Because Android phones are very common, it is possible to find a charger for Androids than iPhones in public places. Another reason for this is the cost- iPhone chargers are more expensive than that of Androids.
c)    OS updates:
iPhones get updated every year. This is because Apple launches a new iOS and a version of iPhone in every September. Once a new version of iPhone is launched, everyone can get the update as they all get the notification. This does not happen with Google. Even though Google rolls out the new versions of the operating system, but it takes few more months for that OS to reach the phones of the users.
d)    Speed:
Even though the performance of Android phones is increasing with time and they have amazing features as well, but people still prefer iPhones because of the speed of the system. Initially the speed might look the same, but after months of usage- when the data is filled in the phone and lot many applications are installed, the differences start to appear. iPhones do not get slow over time, but Android phones do. The applications on Androids even starts to crash or freeze after a year or two. This is the reason why there is a general conception in the market that the lifeline of the Android phone is about two years. Technically, because Apple rolls out a new version every year, the iPhones also get obsolete, but they still work well and are also supported by the company, which means that if anyone wants to use them, they are usable. Android phones become almost non-usable and need repairs in a couple of years.
e)    Mobile apps:
As a developer, it is easier to develop the applications for iPhones than Androids. Due to the variety of Android phones, it becomes difficult to develop the apps to support all those phones. One app will look so different on each phone that it becomes impossible to support all Android devices. With iPhone, things are simple as the number of models are limited. Many popular applications are mostly available on iPhone but never make it to Android platform or make it much longer after they are released for iPhones.
f)    Integration with other hardware:
Apple has a strong integration with other devices like tablets, iWatch and MACs. Google does offer features of integration- by putting everything on the cloud, but then this kind of integration is not very smooth. Apple always wins when it comes to integration. They do it in all aspects whereas Google only does it for some applications like word documents or spreadsheets. Users can put everything on Google drive and access it from phone or laptop, but since no laptops use Androids, the whole experience is very much different from what Apple offers to its users.
How to Unlock iPhone And Android Devices
A lot of people are not buying the Androids and iPhones on a plan. This means that they agree to use the services of a network carrier and they get the phone at cheaper prices than normal market price. The plan is always for a fixed duration, after which the users are free to unlock their phone and choose the carrier/plan of their own choice. To unlock iPhones and Android devices, it is advisable to use an phone unlocking service provider provider like UnlockNinja. We make it easier to unlock the phones- as easy as just making a few clicks. The process starts with filling in the details of the phone- like the make and model and the contact information. You will also be asked to fill in the IMEI number of the phone. It is easy to find the IMEI number. For that, you just need to type *#06# on the phone and IMEI will come upon the screen. UnlockNinja will receive the details and start their work on it. They will get the unlock code which you need to enter in your phone- and that's it! The mobile will be unlocked for you to use your favourite carrier.


Unlock Android Phone to Use Any Network
To be able to use any SIM card in the Android phone, it needs to be unlocked. For unlocking, most important thing is to find the unlock code. It can be requested from the current carrier, and not the phone which the user is trying to use after unlocking. Once the unlock request is entertained by the carrier, the phone can be restarted, and new code is entered to use the new SIM card. Note that taking backup of the Android phone before trying to unlock is a must. Google Drive can be used to take the backup of pictures, contact list and whatever other documents and information are available on the phone. It is not necessary that the phone's data will get wiped out, but it is still safer to take the backup just in case if anything goes wrong. Once the new SIM is entered, it is necessary to make a quick check to see whether the SIM is active or not. Try calling someone or sending a text message to ensure that the services of the new SIM card are working properly.