"You will never have a second chance to make a first impression" – this is not just a beautiful aphorism. In it, there is a deep meaning, according to psychologists. They found out that an impression about a person is formed in our first 30 seconds of "serious" acquaintance, and then very rarely changes drastically. Professionals advise those who are going on a first date to keep this in mind. So that it doesn't become the last one, it is very important for men to know how to look on this day and what to wear.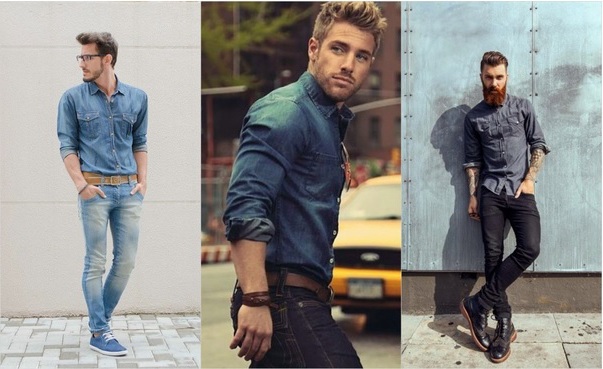 Many men still believe that they need to go on a date in a suit with a tie. But now there is no strict dress code for dates, and sometimes sneakers look no worse than python leather boots. To have a good time, we recommend focusing on fashion dating trends.
1. Back to the 90s
Look at the hottest female celebrities. The 90s fashion is returning at a staggering rate. And it concerns men too. You need to get everything that was left in the closets of your fathers. Any old shirts, tracksuits with stripes, puffer jackets, headbands, oversized sweatshirts and t-shirts, sweatshirts and sneakers with high soles will look great from a brand such as Blank Label. Moreover, white sneakers have not lost their popularity since the 90s. Various colored inserts, patterns, inscriptions, logos, and patches are allowed on clothes and shoes!
2. Sports chic
This style is also in fashion trends for men in 2019. This direction has grown very rapidly over the past few years and only expands its borders every day. This is not just sportswear designed for training and other activities. It can be worn in other conditions, for example, on dates. It looks aesthetically beautiful, and most importantly comfortable. But, of course, it is impossible to go to the cinema or theater in such clothes.
3. Minimalism
This trend has conquered the fashion world over the past year. Minimalist aesthetics include wearing simple items of clothing in neutral colors to achieve a chic appearance. Many guys are big fans of this trend and wear clothes of this style when going on a date.
4. Beige color
When the long winter is over, everyone is eager for sunlight and warmth. In the summer of this year, gentlemen prefer wearing clothes of this color. Halftones of brown, beige, chocolate, and coffee are fashionable colors in men's clothing of 2019. Brown is quite versatile, and fabric pants of this color are as widespread as black or gray. Sandy Brown or Camel is especially popular for outerwear and jackets. You can mix beige and green tones with bright fuchsia and orange colors.
5. Pants and jeans
Let's talk about pants trends. Extravagant and free styles are very popular among young people. In addition to the classic options, loose hooligan pants with large side pockets are in trend. These are extremely comfortable pants, not only for long stays in nature or for outdoor sports but also dates. In addition, leather pants come back. This is another fashion trend for men in 2019. But it fits only guys with good body shape. Pants harmonize perfectly with leather jackets, plaid shirts and, t-shirts with prints. Also, pants can be made from denim, plain cotton, viscose, click here. This is what always in trends.
If a woman carefully considers every detail of her wardrobe going on a date, then a man often puts on something that comes to hand, thus making a fatal mistake because women pay attention to clothes. And one of the most important things a man should think about before the first date is perfectly clean shoes. Most women react to dirty and unpeeled shoes with disgust. Here, any expensive elegant suit or fashionable shirt will not save the situation.