Never underestimate the possibilities of a perfect workplace. Picking the right work desks can make your day pass by more smoothly. Office workers who lament they got the wrong work tables attest that they are more miserable. If you are shopping for desks for your new office or are just simply looking to upgrade your old ones, consider these essential tips to help you choose the right work desk to address your office needs.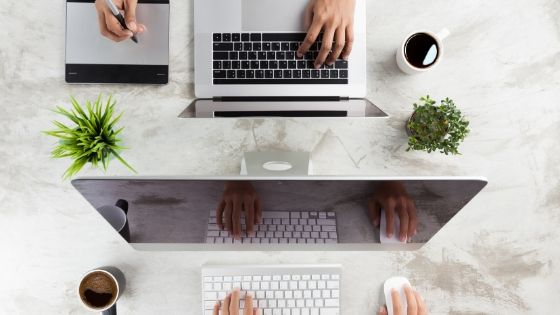 Analyze the Purpose of this Desk
Is your office merely about computers or is it a combination of paperwork, computer, and meetings? Knowing how your team will use the desk will help guide you in choosing the right table. If your staff is on the computer all day long with barely any paperwork, then you must get a workstation that is specifically geared for computers with the right compartments to hold cables and wires. If you need something for paper works, you need something with a larger surface area to accommodate books, spreadsheets and the like. Get a combination table that is L-shaped or U-shaped to offer more space for your team's various functions.
Factor in the Space
For best results, it is critical to measure how much area you can occupy. The last thing you want is to buy a desk that's too bulky, so it interferes with the flow and layout of your staff and guests. You also need space for your chair to move around so that your worker is not confined to just one position. Your team must be able to stand, stretch their legs, and move comfortably within their workstation. Working in a cramped environment is stressful, and it leads to sore muscles because the body is restricted. Provide a good workspace for better productivity.
Choose the Desk Surface
There is a broad range of surfaces to choose from, and this would depend on your budget. Laminate is a popular and affordable choice. Thanks to modern technology, they can create this plastic surface finish with an interior wood core. This material is more durable than pure wood and metal. It comes with many kinds of colours and wood grain finishes. Metal is also another durable desk option that's great for heavy use. It looks sleek and professional, but it is too pricey. The most elegant choice is a real wood desk, but these are very delicate and can get nicked with rough use. Wood desks are the traditional classic choice, but these are also very expensive.
Consider an Ergonomic Desk
Sitting behind a desk continuously for eight hours a day is no walk in the park. You may provide proper leg clearance so people can move their legs with ease beneath the table. The standard desk height is 30 inches from the floor. Behind the desk, there should be three-and-a-half feet of space so that your staff will be able to move around with ease. For those that use computers, the keyboards should be a comfortable height for more efficient typing. If you are planning to invest in a quality desk, consider a convertible table that they can use while standing or sitting. Staying in one position too long is the reason for the common back, shoulder, and neck pain, and a convertible desk mitigates these.
Final Word
Thanks to modern technology, which has provided the world with better materials and designs, you can now take advantage of a myriad of desk styles that are available at reasonable prices. When you are shopping for an office table, take note of the considerations mentioned above because they will help you establish a comfy, ergonomic, and productive workspace that will motivate your employees to work well, which boosts your company's bottom line.