Bitsat is one of the most difficult computer-based exams in India. This test is approved for all types of integrated 1st-Year Under graduation programs based in BITS Pilani. BITS Pilani is one of the most prestigious undergraduate universities in India and offers three campuses across the country- Goa, Pilani, and Hyderabad. Although BITSAT is comparatively easier than other national-level exams, thorough preparation is a fundamental criterion for acing this exam as well. BITSAT, unlike many examinations, is based on analytical-thinking and time-management rather than the subject curriculum.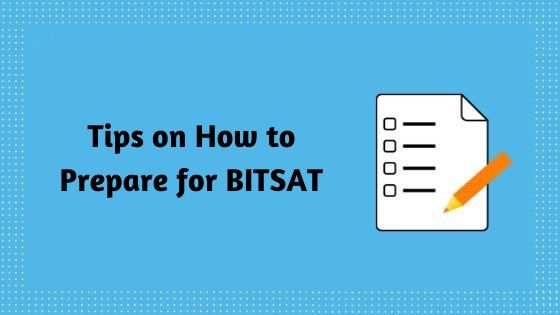 Tips for preparing well for your BITSAT examination
1. Time-management
BITSAT revolves around different topics of the 10+2 curriculum. The chief subjects involved in the exam are logical reasoning, Chemistry, Physics, English, and maths. Most of the questions in the examination are based on conceptual components. These questions should require a fast solving mechanism to finish the entire exam on time.
While preparing for BITSAT, spending quality time to analyze and study vital aspects of every subject mentioned above is significant. Ensuring answering each question with a quick reflex mechanism can help you effectively score well in the exam. With that said, make sure to improve your time-management skills with countless revisions.
2. Practice, revise, and repeat
Preparing for each subject only once won't help you in the long-run. Most often, remembering the core subjects you studied is quite a difficult task. The key to mastering the essential details and topics of different sections is to revise them every day. Make sure to revise each section thoroughly, including English. For topics like maths, spend quality time practicing different questions to speed up and remember the formulas better. Online BITSAT mock test papers can be helpful. Online Test Series (OTS) offers a wide range of practice tests online. Utilize one of the BITSAT mock test papers on a timely basis for better grasping skills.
3. Make sure to prepare separately for BITSAT and JEE
Many people make the mistake of studying the same syllabus for JEE and BITSAT. JEE, unlike BITSAT, gives priority to smaller questions with lengthy solutions. BITSAT, on the other hand, is chiefly based on conceptual topics. Often, BITSAT and JEE comprise different sets of problems, which can be a setback for students preparing a single syllabus. Students must thoroughly study the difference between both these tests and study accordingly to have a higher possibility of scoring well. One of the most vital tips for students is to answer the questions that you know at first so that you don't waste unnecessary time on the ones you don't know.
4. Make sure to write the bonus questions
BITSAT is a distinctive exam that offers a set of bonus questions. In total, you will have to solve 12 Bonus questions. Now you might be wondering how solving these can be beneficial. These questions are as tough as the main ones. However, these questions are given to the students after the early completion of the BITSAT paper. Only if you finish all the questions and submit the paper before time, you can utilize the bonus questions. Thus, if you are confident that you are done revising the BITSAT paper, you can go ahead and write the bonus questions to increase the chance of getting a positive marking.
5. Understand and work on the marking scheme
Each section of the BITSAT paper carries distinguishing marks. You should deliberately prepare for each section and answer them with a quick reflex. However, wasting time on the questions you have zero clues about can play a crucial role in cutting down your marks. A correct answer gives you three marks, whereas an incorrect answer costs you a penalty of one mark. The initial section of the BITSAT paper is said to be the easiest. Understanding the section you are most confident with can substantially help you increase your marks. Make sure to also spend a hefty amount of time practicing the sections you are weak at.
To sum up:
Utilizing BITSAT mock test papers or other practice tests regularly before the exam can help you improve your core aspects while increasing the chance of acing the paper. Thus, make sure to go through all the above-mentioned aspects carefully to ace the BITSAT paper with ease.