Many people have turned to home improvement during the pandemic and it is easy to see why. People are spending much more time at home both in terms of working and socializing, and many have more free time on their hands and are wanting to improve their living space. There are all kinds of home improvement ideas to consider that could make a big difference to your lifestyle and home and, in many cases, you can add value too. So, what are a few of the more common home improvement projects that people are embarking on in 2021? Read on to discover the main trends.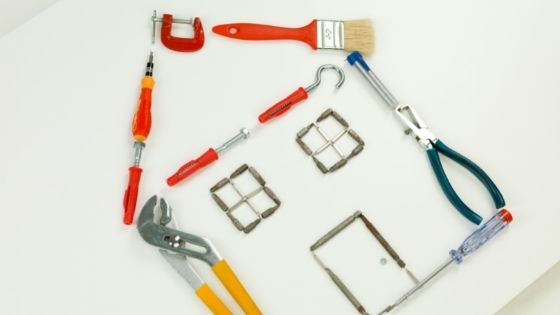 Home Office
The biggest home improvement trend in 2021 has been people creating home offices. Obviously, with so many businesses deciding to continue with WFH on a part-time basis at least moving for-ward, it is vital that people have a space where they can work comfortably from home and free from distraction. Creating a home office has become an essential project for many and having a dedicated area of the home for working can also help people to keep their work and home sepa-rate.
Home Gym
Similarly, many people have found themselves exercising at home during COVID-19 and decided to set up their own home gyms. This might involve converting a basement or unused room or even setting up a gym in the garage or garden. Some have decided to go all-in and invested in a range of different equipment, suitable flooring and mirrors on the wall, while others have opted for a more basic set-up such as a bench press and treadmill.
Kitchen Upgrades
The kitchen is the beating heart of the home and now people are often preparing all three major meals here, which also means that it is put under greater strain. This is why kitchen upgrades are a popular home improvement project at the moment they can make a huge difference to both your home and lifestyle (as well as add value). You could opt to have the entire kitchen remodeled with features like a kitchen island or, if you are looking to save, then you can make smaller upgrades like painting the cabinets, adding storage and replacing the countertops.
Improve the Curb Appeal
Improving your home's curb appeal can put you in a greater mood when you return home, impress any guests and passers by and could even add value to your home. There are all kinds of different ways that you can improve the curb appeal, such as:
Landscaping the front lawn
Painting the front door
New front door furniture
Exterior lighting
Creating a pathway
Resurfacing
Washing the home exterior
Bathroom Upgrades
These days, the bathroom is viewed as an important area of the home for wellness and mental health. A dingy, drab and outdated bathroom will not be a pleasant place to spend time, so many homeowners are making big upgrades to their bathroom to make this a more appealing space. This could include new tiling, a walk-in shower, standalone bathtub, new lighting, a new toilet and decoration just as a few examples of ways that you can improve this space.
Greenhouse
A greenhouse can be a fantastic addition to your home and lifestyle, so it is easy to see why so many homeowners are buying greenhouses from places like https://greenhouses.com. A greenhouse can completely transform your garden by improving the visual appeal of the space as well as providing you with somewhere to grow your own plants and vegetables – a fun and rewarding hobby that you can do from home. A greenhouse can also be a pleasant, peaceful place to spend time and could make a big difference to your mental health at home.
Redecorate
Having spent so much time at home since the start of the pandemic, it is understandable that many homeowners are getting tired of looking at the same walls each day. This is why many people are redecorating the home, which can be more affordable than large home improvement projects, it can be good fun and make a big difference to the home by rejuvenating each room. There are all kinds of different ways to redecorate the home, such as:
Paint the walls
Lay new carpet
Buy new furniture
Rearrange existing furniture
Experiment with lighting
Buy new artwork
House plants
Swimming Pool/Jacuzzi
For those that have the space in the backyard and want to bring some luxury into their home, a swimming pool could be a superb and life-changing home improvement (it can also add a signifi-cant amount of value). A jacuzzi is another great option and requires less space but can still make a big difference to your life and mental health.
Home Bar
People are going out to bars less at the moment and many have found that having a few drinks and socializing at home can be just as enjoyable (as well as much more affordable!). It is no surprise that many people have set up their own home bar as a home improvement project in 2021 whether this is in the living room, kitchen or garden. You can go both big and small with this home improvement project and it can make any home feel more luxurious and stylish.
Extension
With people spending more time at home, many have felt the limitations of their property and de-ciding that they need to have an extension. This is obviously a major project to undertake and can be disruptive, but it can also make a huge difference to your property and life and there are all kinds of different ways that you can use the additional space. On top of this, an extension can also add a significant amount of value and you could recoup a lot of the costs if you decide to sell anytime soon.
These are a few of the more popular home improvements that people have been making this year. Hopefully, it will give you some inspiration and help you to make improvements that make a big difference to your home and life.