Being the most user-friendly AI-powered SERP Checker, Zutrix is easy to use, and the software tracks keywords and their rankings on the SERPs accurately. Each keyword's Google SERP rank is checked instantly and kept up to date every day in the SERP checker. It lets you see real-time search results from different locations without specific IP addresses to the site.
There are more than three reasons why the best free SERP Checker tool is Zutrix. We're going to mention a few reasons, and then we're going to talk about our favorite three. The reasons why Zutrix is the best free SERP Checker include:
Fantastic user interface and easy-to-understand dashboard
Affordable pricing plan, same features
Informative Keyword Lab that grants valuable insights
AI-powered results with ultimate accuracy
Device-based SERP features and location results
Real-time notifications through Telegram, Slack, and Email
Unlimited competitor tracking with smart suggestions
Unique reporting system including scheduled reporting and white-label integrations
Track keywords at every location with 100% accuracy
Ranking report sharing through uniquely created links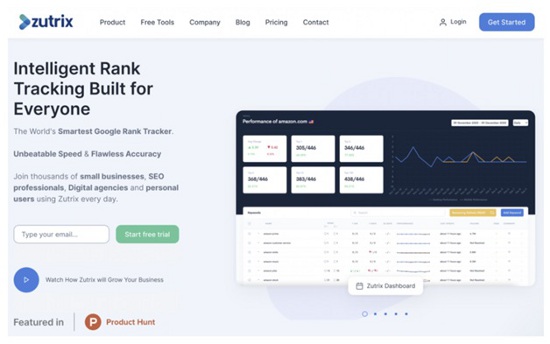 Now, to our Top Three Reasons
Informative Keyword Lab that Grants Valuable Insights
It would be odd to discuss an SEO tool without mentioning how it tracks the keywords and ranks them. This is exactly where the Keyword Lab plays such a significant function.
Continuously keeping tabs on your selected keywords and how they rank on Google is important. With Zutrix free SERP Checker, you always have a clear view of your site positions on the search engine result pages (SERPs).
The information you get includes the SERPs related to other sites and your competitors. This will normally be a manual process at your end, where you would have had to use a spreadsheet and physically audit the keywords of your site against other pages. When using a platform like Zutrix, this is not the case anymore.
In this manner, the Keyword Lab takes away the manual work by doing much of the analysis for you from your end. While within the Keyword Lab, you can access the following data points:
Estimated search volume of each keyword
Level of competition at present
Keyword difficulty
List of domains ranking for the keyword
Domain authority for each site that ranks
The above features offer you a wide range of information to get you started creating your SEO strategy, but there's even more information to access, such as the Click-thru rate for the top five ranking pages. Typically, you see the leading site, and you know that they get the most search volume.
However, using this nifty feature, you get more data on the second, third, and fourth pages. This is very important because you will earn a milestone for your website by winning the fourth, third, and second positions in anticipation of winning the first spot in the SERP.
Fantastic User Interface and Easy-to-understand Dashboard
It is quite easy to use the dashboard and trending data on the Zutrix SERP, and the information reported is quite intuitive. Upon accessing the Zutrix SERP Tool, you can see the dashboard, and it is reasonably easy to navigate. It also allows you to add unlimited domains and track several keywords for each. The software also shows these keywords in one location of your screen.
These days, many company owners have several websites, and it is nice to know that you won't have to sign up a new account for each domain.
Let's take a look at how this can work for you as you track and improve your SEO efforts:
The navigation point along the left sidebar makes reviewing the domains and projects you have on the go extremely simple.
You can also see your domain score on Google, and it's an average position over time.
You can display each of your domain's performances easily by clicking on the domain. While on your dashboard, you can choose to look at your monthly or daily progress using the filter button.
If you want to see a more detailed view, it will show you all of the changes in your ranking for specific keywords if you look at the top tab.
After you have unpacked these details, you can start looking at each site and keywords to improve your ranking.
Bear it in mind that you can also see a few other important information, such as the keyword's performance over time, the last data update, the average search volume for each keyword, and the assigned comments or tags.
The dashboard has all the data points to improve your ranking, but if you want to find out your current ranking quickly, you can do that simply by clicking on the yellow 'Remaining Refresh' button. However, to use this feature, you need to have adequate refresh credits.
Zutrix can be used individually or as a team. With that in mind, you can use the live sharing functionality to bring your team into the loop and strategize on the next steps to take in terms of the SEO of your business.
Now, to the third reason why Zutrix is the best free SERP Checker tool.
Affordable Pricing Plan, Same Features for All Plans
The pricing plans are available in three packages. While the same features are available in all packages, the key distinction is the number of keywords you can track. This means that, whichever plan you subscribe to, you'll have access to unlimited domain track, keyword lab, competitor tracking, and more.
Here's the breakdown. The basic plan allows you access to track only 250 keywords, and the rate is $28/mo. The standard plan offers you access to track up to 500 keywords at a fee of $58/mo. While the Advanced plan is the most thorough of all the plans and will allow you to keep track of up to 1000 keywords for $99/mo. White label reporting is available only for the advanced plan.
Final Thoughts
The Zutrix SERP checker measures your website's search engine page ranking and displays several metrics with regular dynamic updates. Zutrix SERP checker software gives you up to 10 free searches. Even if you're a newbie and want to rank your website on the first page of search, this amazing tool will guide you till you reach your goal.