In my opinion, I'm more of a mountain person than an ocean person. While I enjoy a bit of time on the beach, I find it difficult to hold my attention for more than a few hours.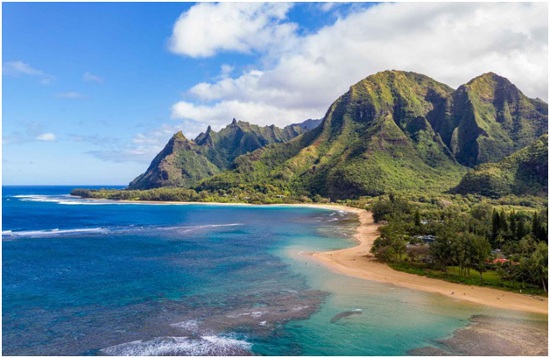 So what in the world does a non-beach person do in Hawaii? Many start with HawaiiTours.com for a variety of the best Hawiian tour options.
Hiking is our thing.
There are thousands of great hiking opportunities on the islands, but don't overlook the sand, waves, lifeguards, and underwater delights that Hawaii is famous for! On Oahu, I visited the beach occasionally, but I made sure to find the trails as well. Fortunately, I had a couple of friends on Oahu who also liked to hike and took me to some of their favorite and easy spots to enjoy some beautiful views and get some exercise at the same time.
Old Pali Road Trail Hike
The old highway provided an exciting challenge for anyone wishing to make the journey from leeward to windward of the island. Despite its precarious position on the side of a mountain, this was the only way to traverse. Nowadays it has been replaced with a more reliable 4 lane road complete with a tunnel. Fortunately, parts of this original highway are still accessible for hikers and sightseers alike. Tourists often flock to the lookout for photos, but if you go beyond, down to your right past the 'closed' sign, you can experience even more!
In order to descend this lush mountain, you will walk along old parts of the Pali Highway through dense jungle perched along the side. On the way down, Ron also picked fresh guavas from the trees and we snacked on them. It took us 45 minutes to get down and then we slowly turned around and climbed back up. It is possible to hike all the way to the end.
Difficulty: Easy (until you turn around and come back up!).
How to get there: The Pali Lookout (the top) is the best place to start.
Kaiwa Ridge Trail Lanikai PillBox Hike
I spent about 1 ½ hours making our way up to the old army bunkers (pillboxes) perched on the ridge above Lanikai. With no trees or shade around, we were thankful for the cool wind that brushed our skin. Reaching the top meant a panoramic ocean view of Lanikai below – and plenty of photo opportunities, of course! I even took time out to sit down, relax and truly appreciate what I was looking at. For Yen's birthday, she decided to spend her night camping in one of the pillboxes – watching the sun rise in the morning must have been a stunning sight! Last but not least when you make it back down off of this ridge trail, you can take a refreshing dip in one of Lanakai's beautiful beaches.
Difficulty: Intermediate – As you are on the ridge and scrambling around rocks, it is steep at the beginning, but it is short. You need to be sure-footed as you are on the ridge, so don't be intimidated!
How to get there: The trail head can be found directly across from the Mid-Pacific Country Club. A small sign should be visible further up this "street" indicating the Pillbox Hike.
Makapu'u Point Lighthouse Trail Hike
The lighthouse trail is an easy but worthwhile journey leading you to a view like no other on the island. Guided by a laid out path and a constant upward slope, this short hike will take you right above the only working lighthouse on Oahu. Although I attempted to reach the tower, I was stopped by a huge fence! The trail is relatively uncomplicated and well-paved, however be aware that it can get very hot if taken in sunshine. Fortunately, I was lucky enough to traverse when there was a gloomy atmosphere, with light rain and strong winds which made for perfect photography conditions. The skies were dramatic, emphasizing the grandness of the whole island.
Difficulty: Easy to intermediate (only the climb…but it's really simple!)
How to get there: On Oahu, the park and trailhead are located off Kalanianaole Highway (Hwy. 72).
Kawainui Marsh Trail and Ulupo Heiau Hike
Ron and I got rid of our haupia jello shots hangover by doing the Kawainui Marsh Trail. The three-mile path meanders through marshland and offers spectacular views of the Ko'olau Mountains. We continued our day of exploration further up the hill, on a short walk along the highway which led us to the Ulupo Heiau – a sacred place measuring 140 by 180 feet. Believed to be an agricultural heiau, offerings and ceremonies were made here to ensure good harvests. As this was an important place – I thought it would be a great idea to leave my many leis collected on the island behind as an offering for some extra 'good karma' for their taro crop!
The difficulty level is easy!
Ulupo Heiau is located a mile south of Kailua Rd, behind the YMCA. Coming up the Pali Hwy from Honolulu, take Uluoa St, the first left after passing the Hwy 72 junction. Turn right onto Manu Aloha St and right again onto Manu O'o St.