When it comes to comfy and versatile clothes, there's nothing like good mens sweatshirts to anchor your winter wardrobe. As temperatures drop, mastering the art of layering becomes essential, not just for warmth but also to make a style statement.
Sweatshirts, with their cosy fabrics and relaxed fit, serve as the perfect middle layer, sitting comfortably between a soft inner layer and a more structured outer jacket or coat. From classic crewnecks to trendy zip-tops, there are endless options for mens sweatshirts available online.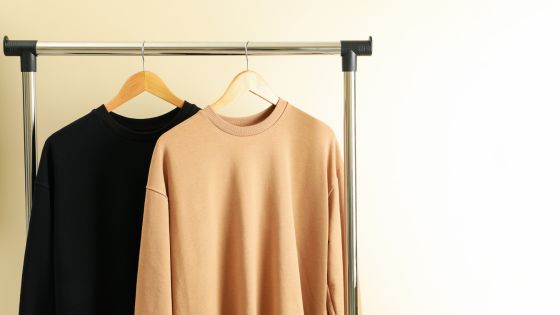 Today, we will understand how you can style men's sweatshirts in different styles to create unique outfits for various occasions. So, let's get started.
1. Layer It Up: Mens Sweatshirts are great for layering in winter. You may pair them with a denim or leather jacket to achieve a casual yet refined look. Play with different textures and hues to ensure warmth and give a dynamic dimension to your outfit. Consider slipping on a pullover beneath a blazer for an elevated and polished vibe.
2. Monochrome Magic: Embrace the power of a monochromatic outfit. Choose a sweatshirt that matches your pants, creating a seamless flow of colour. This effortlessly stylish vibe works for all sorts of occasions, from a lunch date to a night out.
3. Accessorise Thoughtfully: Accessories can take your look to the next level. Add a stylish watch or some leather bracelets for a classy look. You can also wear a statement belt to create a more tailored look. Small details like these make a big difference.
4. Smart Casual Elegance: Make your sweatshirt look smart and casual by pairing it with tailored trousers or chinos. It's the perfect blend of comfort and sophistication. Tuck your sweatshirt into your pants and finish the look with loafers or clean sneakers.
5. Sleek Formal Look: Opt for turtleneck mens sweatshirts and pair it with a suit. This ensemble instantly elevates your style, especially during colder months, giving you a cosy but polished look.
6. Athleisure Trend: The athleisure trend is still going strong, and men's sweatshirts are key. Pair them with slim-fit joggers or athletic shorts. Add stylish sneakers and accessorise with a sleek backpack or crossbody bag for a sporty yet fashionable ensemble.
7. The Layered Button-Down: Layer a button-down shirt under your sweatshirt for a preppy and stylish twist. Keep the shirt untucked for a relaxed vibe, or tuck it for a more refined appearance. Try different shirt patterns and colours for diverse looks.
8. Go Retro with a Collared Shirt: Give your outfit a '90s-inspired vibe by layering a collared shirt under your sweatshirt. Pair this combo with jeans or khakis for a casual yet retro-cool style. The peeking collar adds a unique touch to your look.
9. Roll Up the Sleeves: Roll up your sweatshirt's sleeves for a bit of casual elegance. This works well with dark jeans and classic sneakers, creating a relaxed yet polished look.
10. Statement Scarves: Wear a statement scarf with your sweatshirt to add some personality. It keeps you warm and becomes a focal point of your style. Choose a pattern or colour that complements your sweatshirt and the rest of your outfit.
The key is to experiment, mix and match, and explore the endless possibilities these comfy, cosy men's tops offer. So, the next time you reach for your favourite sweatshirt, remember it's a canvas for your unique style, and with a bit of creativity, you can effortlessly up your fashion game.