A deck can be an excellent way to boost the outdoor living space of your home and its worth. However, it can be overwhelming for those who have never built a deck. If you want to add the deck to your home, you have two primary choices: make it yourself or employ a professional. Both have advantages and negatives, so how do you determine the best option for you? In this article, we'll look at the advantages and disadvantages of DIY decks, as well as hiring a professional so that you can make an informed choice. Happy deck-building!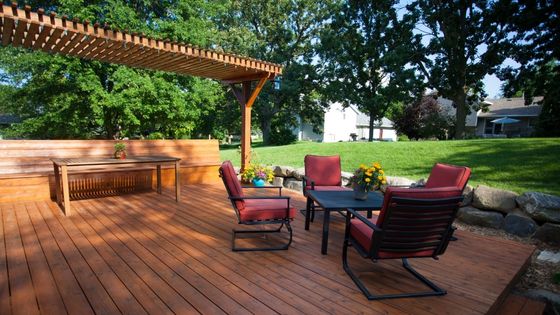 Benefits of Having a Deck
Backyard decks have become more prevalent recently, and it's easy to understand the reasons. Decks can be the perfect place to entertain guests, eat an outdoor meal, or enjoy a cup of coffee. A deck can enhance the value of your property and increase its appearance. If you're considering building a deck in your home, you must consider your options. Decks require frequent maintenance and can be costly to construct. However, the advantages of owning a deck generally outweigh the disadvantages. With the proper care, it can offer many years of enjoyment for your family and you. If you're looking for ways to make your outdoor space more inviting, you should consider installing an outdoor deck. It could be the ideal option to add to your house. There are two primary methods to build a deck, either by yourself or by hiring an expert deck builder. So, which is the most effective choice for you?
Building Your Own Deck
DIY decks are an ideal project for homeowners who want something challenging. If you're confident working with power tools and have basic carpentry skills, you should be able to handle making your deck. However, before starting this project, there are specific points to be aware of.
The construction of a deck isn't generally a straightforward or fast job. It could take several weekends (or even more) to complete, based on the dimensions and complexity of the deck design. Also, you'll need to consider the price of materials that can cost a lot of money.
Hiring Someone to Build Your Deck
If you're unsure about your handyman skills or do not have the time to construct your deck getting someone else to do it for you is the best choice. A professional deck builder will have the experience and expertise to get the job done quickly and efficiently. They'll also help you select the appropriate materials to suit your environment and budget.
Of course, hiring a professional has associated costs. Deck builders generally charge by the square foot, which means the price will be based on the deck's dimensions. However, it's typically worth it to pay for professional deck builders should you wish for your deck to be adequately built and last for a long time.
What's your take? Do you want to build your deck or have someone else do the job for you? It depends on several aspects. If you're handy and have spare time, making your deck is an enjoyable undertaking and could save you cash. However, if you're not comfortable working on DIY projects or do not have the time to do it yourself, getting a professional to help is the best option. Whichever option you decide to take, we hope this guide helped make the process more straightforward.