As the term specifies itself, local SEO refers to a strategy targeting a specific location. Being a local business owner, you have to aim for local customers, as they are your audience, and local SEO can pave the way for that. Optimizing local SEO can get you more leads, conversions, and traffic, as your strategy will focus on that. Most importantly, almost half the search traffic that a site gets is local. Now that you are aware of the importance of local SEO, you need to look for ways to optimize a strategy of that kind. To simplify it, this blog focuses on steps of optimizing the local SEO strategy: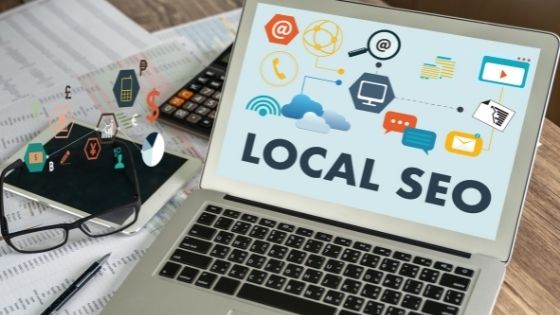 First of all, what is Local SEO?
In simpler terms, Local SEO refers to the practice of boosting the digital presence of a local business. Except for the geographical components, local SEO and organic SEO are alike. The aim is to focus on crawling the high ranking for local searches on search engine result pages. So, here follows the list of optimizing the local SEO strategy:
● Google My Business Account
GMB or Google My Business account is an online tool that can manage your online presence through Google, including search and maps. It is an effective way and essential step to rank higher and get visibility for a local search. If you have not listed your business on GMB, you need to do that first. Next, verify that you are the owner of that business and keep your details updated. You must also include information, such as working hours, logo, payment methods, and products/services you offer. Whenever any customer publishes his reviews, do not forget to respond to them. Make the best use of Google My Business Account. If you want to announce events, products, and special offers, publish related posts using the GMB dashboard.
● Optimize Voice Search
The majority of the audience prefers speaking their queries to search engines over typing them. It is an easy and convenient choice, and the option doesn't seem to go anywhere. Now, for the cases of local SEO, it is essential as it is a more preferred option of conducting a search. Now, customers prefer using long-tail keywords in a voice search in comparison to the regular one. This makes it essential to emphasize that aspect. In fact, you will have to alter the content's SEO in a more conversational manner. You can put related starters into use, including what, who, when, how, and where. You have to focus on the intent of the searcher. As the readers are looking for a specific piece of information, you need to take that into consideration. You have to make sure that the user gets the information he needs at that moment only.
● Local Content Creation
The role of content for any marketing strategy is known to all, and for local SEO, the same rule is applicable. If you become the source of content related to local issues, you will get instant attention from the readers. These readers are going to be the potential customers of your business, don't forget that.
For this, you can create content that relates to the events, news, and stories happening locally. You can share a glimpse of non-profit-making causes if you support any. If you are a business serving different locations, set up pages based on location with locally-focused content.
● Responsive Website
Is your website responsive? A responsive website refers to a site that can adapt to the screen of the device you access. Now, as the majority of the searches are conducted through mobile phones, you need to own a website like that. It can affect the user experience and your local business. Apart from optimizing your website to adjust according to any screen, you will have to take care of many other things. This can include ensuring that the loading time of the website is faster. You need to see that the content consists of larger fonts. Also, prioritize information over fillers on the screen.
● Local Keywords
Keywords are the terms used for searching for a product or service. Now, in the case of local SEO, the importance of local-based keywords goes without saying. After all, when you have a local audience, it would be essential to target keywords related to them? Filter keyword searches on the basis of the location. This can help you learn about the possible and most searched keywords about the specific region. Don't forget to include the mentions of the landmarks that specify the location. For example, you are a CPA service provider practicing in New York City, so you need to cover New York City or NYC as well.
Final Thoughts
Marketing is a crucial process to make a business thrive, and so is local SEO for a local business. Being a business owner makes it necessary for you to take care of a fully optimized strategy for that. For this, local SEO Services can help you add your business details on Google My Business Account, optimize voice search, include local keywords, use location-specific pages, and be the source of locally-inspired content.