Building a gaming room may seem like an expensive project when you first look at it, but it doesn't have to be. You could build a nice gaming room for a few hundred pounds if you're willing to make some compromises. You will also have to be smart with your shopping. There are tons of ways that you could get equipment on the cheap if you know where to look, especially if you're not too picky. Let's take a look at a few tips to help you build a great gaming room for less.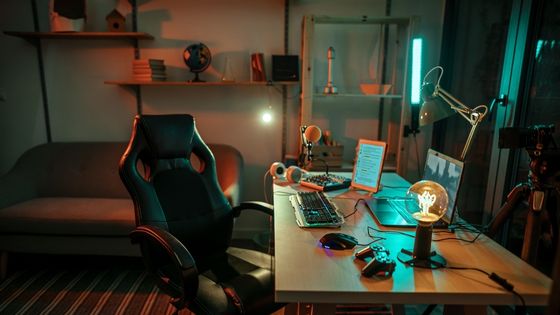 Consider Getting a Bean Bag
If you like playing multiplayer games with your friends, you should consider getting a large bean bag or pillow. Why get separate chairs or a large sofa when you could get a cheap bean bag or fom pillow that will allow everyone to sit comfortably for a fraction of the price? You could get a nice 7ft or 8ft body pillow that can double as a lounging spot or a bed for well under 200 pounds, so don't go overboard with the seating and look at whether a bean bag or pillow could work instead.
Go for Office Furniture
If you're more of a PC type, don't fall into the trap of buying furniture made for gaming, especially if you were thinking of going cheap. Cheap gaming furniture is usually almost identical to office furniture just with subpar added features, nice branding, and snazzy colors. Instead, go for office furniture and consider looking at second-hand options where you are.
Offices are constantly trying to unload old furniture, and even if it's used, you can expect a lot of it to look in great condition. It's not unusual for offices to overstock and have tons of items that they never or barely use. This could allow you to get high quality almost pristine office furniture for a fraction of the price. So, start looking at your local classifieds and see if you can find great deals there.
Don't Overspend on Peripherals
Another mistake a lot of people make when they create a gaming room is investing too much in the peripherals. There's no need to invest in the biggest, fastest monitor on the planet if you're playing console games or if your PC can't push games past 60FPS, for instance. So be careful when buying these and see where you could make some savings.
Get Some Budget Lighting
Lighting is very important when it comes to game rooms, but you don't have to go crazy here. Nice LED strip lights will be more than enough, and if you don't mind keeping things simple, you could get a very nice ambiance with nothing but smart light bulbs. Make sure that they're highly customizable, however, and allow you to switch colors and warmth easily from your smartphone.
Conclusion
As you can see, you don't have to break the bank to get a nice-looking gaming room. Consider all of these options and be open-minded with your purchases, so you can keep your costs as low as possible.