Collecting, maintaining, and storing all past health records can be cumbersome. It can also be challenging to arrange and carry all medical documents to new doctors, especially when shifting cities. But these problems can easily be tackled by adopting the government's latest healthcare initiative. To make things easier for Indian citizens, the government launched the ABHA card for secure online storage of all your medical information.
What is ABHA Card?
Launched in 2021, the Ayushman Bharat Digital Health Account aims to securely digitise peoples' health information. It enables easy sharing of your health records like your diagnostics reports, past prescriptions, and other vital health details with doctors, clinics, insurance companies, and other concerned parties. When you register for this health ID, you will be assigned a unique 14-digit ABHA number, which can be used and accessed from any part of the country. No one can access your medical records without your consent, so it is 100% secure and reliable.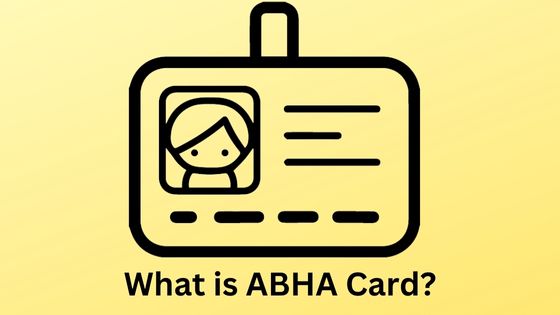 Features and Benefits of ABHA Card
If you want to ease the tedious process of sharing your health records with your healthcare providers, getting an ABHA card can immensely benefit you. Some of the ways the ABHA card can help Indian citizens include the following:
You can easily access all your healthcare records, like past prescriptions, diagnostic reports, etc., in one place.
Sharing your medical history becomes easier with a new doctor, clinic, insurance provider, etc.
The details in your ABHA card get updated in real-time if you give your consent and link your ID with your personal health records.
The strong encryption makes it easier to determine who gets access to your healthcare records.
Every ABHA cardholder gains access to a trusted list of verified and qualified doctors from different parts of the country.
One of the best parts about this health card is it is easy to register for, and you can always choose to activate and deactivate it whenever you want. While getting an ABHA card is not mandatory, it is beneficial in many ways.
Step-by-Step Ways to Apply for ABHA Card
The government gives you multiple options to create your ABHA account. You can use your driving license, Aadhar card, or mobile number to begin the application process. Once you are ready with any of these options, follow the steps shared below.
Visit the official ABHA website (https://healthid.ndhm.gov.in/) and pick the 'Create your ABHA now' option.
Click on the option prompting you to 'Generate via Aadhar' and enter your Aadhar number.
Now scroll down, click on the 'I agree' option, complete the captcha, and click on the submit button.
You will then have to fill in the OTP you receive in your Aadhar-linked mobile number.
Enter the OTP and submit.
You will then be shown your details linked to the Aadhar card. Go through the details and verify them by clicking on the 'submit' button.
If you want to create an ABHA address similar to your email ID, you can do so by following the instructions on the screen or continuing.
Once you've successfully followed all these steps, your ABHA account will be created, and you will be able to download the same.
You can get your ABHA card download online instantly after creating your account. The entire process is easy and well-organized, so you will rarely encounter any problems while creating your account. People using their Aadhar card can instantly generate their ABHA ID, but people using their driving license will get an enrolment number. You will then have to take the enrolment number to the nearest ABHA facility for verification. Once the verification is complete in an authorised facility, you will get your ABHA card and unique ID number.
If you feel storing and carrying all your medical records is a hassle, you should register yourself and get an ABHA ID card at the earliest opportunity. You will be pleasantly surprised how convenient it is to use, taking away all your medical record-sharing troubles.