The dining area is one of the most important rooms in any home. It's not just a place to eat in; it's also where friends and family usually get together to have a good time. Even in places like hotels and restaurants, the look, style, and commercial furniture you choose for this area can be a big deciding factor for potential customers.
So, it's crucial to put a lot of consideration into the style and theme of your dining room. Here are 4 common dining area styles that are timeless and will look perfect for homes, hotels, or resorts.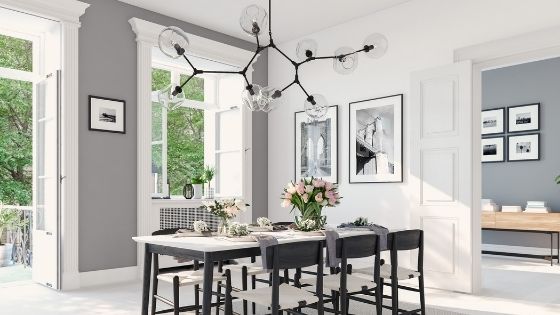 Farmhouse Style
Unlike the traditional style, a farmhouse dining room is more casual. It features a lot of rustic furniture that gives a sense of stability and reliability. These pieces are usually stained instead of painted to show the natural grain of the wood. One of the most essential features of a farmhouse dining area is a long, rectangular table with benches instead of individual chairs.
When it comes to materials, you can't go wrong with the classic gingham fabric for your tablecloths or chair covers. But if you want something more simple and natural, cotton and linen in muted colors are also good choices. For decorations, go for rustic or antique items. A vase with freshly cut flowers can always elevate the warm and homey feel of a farmhouse dining room.
Coastal or Beach Style
This style is commonly seen in hotels and resorts near the beach. It has a light and open feel that brings the fresh atmosphere of the sea to the dining area. Much like the farmhouse, beach style dining rooms use natural materials like wood. High-quality commercial furniture that is styled to look like a repurposed boat is the most quintessential piece in a coastal dining room. Items made from plastic that look very artificial are rarely used for this style unless they have a coastal theme. Life buoys, oars, seashells, glass bottles, and decorative anchors are great accessories that would elevate the nautical and beach-like style of the room.
Colors that are commonly seen in an ocean view like whites and blues are the most ideal choice for this dining room style. Light tones of gray and green are also a good option. Generally, it's best to stick to soft hues to maintain the fresh and airy atmosphere of a beach style dining room. But, you can also include some navy blues or reds to add a pop of color and some interest in the area.
Contemporary Style
This is one of the most versatile and fluid dining room styles out there and would fit any home, whether it's traditional or modern. Contemporary dining areas often break away from the traditional design elements and opt to create their character. This can be seen in uniquely shaped furniture with unusual accessories or details. But, this style also aims to showcase an ergonomic design. A piece of furniture like a couch may look odd at first, but you'll be surprised that it's quite comfortable once you take a seat.
Since the furniture used in a contemporary dining room are already unique and eye-catching, it's best to balance it out with muted colors of any fabric and dark, solid wood on other surfaces or hardware.
The contemporary style may not be for everyone. But, if you do choose this style, it can create a bold look that'll make your dining area the focal point of your home.
Modern or Minimalist Style
People tend to confuse this with the contemporary style since they both deviate from the traditional style and make their unique character. But, the most defining feature of a modern style dining room is the clean, uncluttered, and simple look, hence why it's also known as "minimalist" style.
The walls are usually kept bare of any decorations to showcase the wall color and to make the area look more neat and spacious. There's also little to no knickknacks lying around to prevent it from looking cluttered. The few pieces found in a modern dining area usually serve a purpose.
When it comes to furniture, they're usually sleek and simple. Glass or metal top dining sets are more common than the traditional wooden ones. Acrylic and chrome materials are also becoming popular for modern style dining areas.
These are just some dining room styles you can choose from for your home or commercial establishments like hotels or resorts. Knowing the distinct and unique characteristics of each of them will help you decide on the pieces to get once you visit a commercial furniture store.