When you live with kids and senior members of your family, you ought to consider lots of things in your home's design. Choosing a floor, for instance, becomes a complicated decision to make and that's the primary reason why we prepared this home renovation guide for you.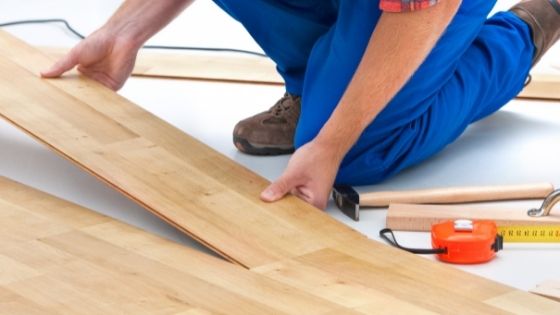 As expected, you have to pick the one that looks great in your dream space. At the same time, it should have the following characteristics:
Low maintenance – Managing a household with kids and aging parents can get busy sometimes. Having a floor that looks good with minimal maintenance is a great advantage to save time and energy.
Easy to clean – Kids have the tendency to make a mess, so it would be nice to have a flooring that looks pristine after a quick mop or wipe.
Easy and safe to walk on – Ease of movement is essential, especially when using mobility aids like walkers or wheelchairs.
Soft underfoot – A little cushioning won't harm a toddler's developing feet and is also beneficial to someone who has health concerns like arthritis, osteoarthritis, gout, etc.
Slip-resistance – These help kids and seniors avoid slips, skids, and falls. It helps them move around safely and independently too.
Shock absorbent – It would be nice if the floors can minimize the impact of a fall or an accident.
Sound insulation – It would be nice if the floors don't produce pretty loud noises when the kids run around and when the seniors use a stick to support them.
Now that you know what to look for aside from aesthetic appeal, here are some of the best flooring choices when you have seniors and toddlers at home. We'll also rate each one based on the above metrics.
Laminate flooring
Cleaning and maintenance: Almost zero maintenance is required and is easy to clean, thanks to its protective overlay.
Safety: These can be slippery when wet, but you can apply an anti-slip coating for laminate floor products.
Comfort: Softer when compared to hardwood floors. Its HDF or MDF core makes laminate floors barefoot-friendly.
Look and feel: Has various natural-look designs and textures (i.e., a great substitute to hardwood, bamboo, and natural stone floors)
Is laminate flooring your top choice? Check out our complete product line.
Rubber
Cleaning and maintenance: Relatively easy to maintain and clean.
Safety: Shock and slip-resistant.
Comfort: A soft underfoot and can support play and home workouts.
Look and feel: Comes in minimal styles, colors, and textures.
Cork
Cleaning and maintenance: When properly sealed and maintained regularly, it is easy to clean.
Safety: It has a non-slip surface, and it won't catch your feet.
Comfort: Soft cork floors are susceptible to furniture damage, but hard cork floors can support a person in a wheelchair.
Look and feel: Comes in a limited variety of styles and colors.
Carpet
Cleaning and maintenance: Requires regular cleaning and maintenance to preserve beauty.
Safety: Cushions the feet and body. It provides some protection against injury.
Comfort: Soft to touch and creates a cozy atmosphere.
Look and feel: Available in a wide variety of styles, colors, designs, patterns, and more.
If you have a home renovation project soon and are unsure what kind of flooring to install, always remember to choose the one that will improve your family's quality of life and the one that will address your family's needs and priorities. You have lots of options nowadays, and almost all of them have products that suit nearly every design style we know. For a better outcome, seek advice from a design and building designers. Share your goal for your upcoming home improvement project, and they will be glad to help you.