Secure handling of user data has been on the radar over the recent past.
And since brands today run on data fuel, understanding the realm of regulations and making significant strides on the lines of privacy has become indispensable for niches and even more for the customer communication experiences on apps.
In congruence with this growing interest, GDPR, a unified charter of regulations revamped the entire schema of data protection prevalent across regions for sensible use of personal data on all levels, making it a global standard for all products and services (SaaS apps included).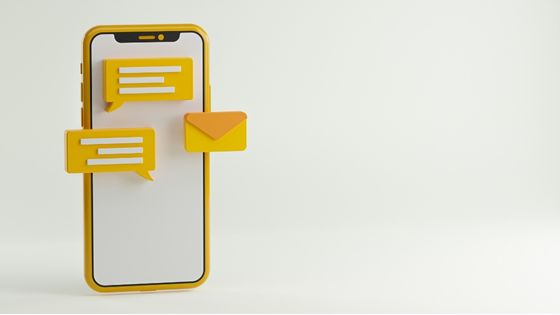 Before unpacking further, let us dig deeper to comprehend the entire gamut of guarding and managing consumer data via GDPR and its affluence on native messaging implementations.
Does data privacy matter?
Did you know that 84% of Indian consumers prefer alliances with brands that prioritize data privacy?
Given the minefield of information exposed in organizations within the purview of engagement, promotion and transactional opportunities, it only makes sense of the state of consumer's wariness towards this fragment.
In fact, many consumers often draw parallels of these apprehensions to hacking, identity theft, breach etc. eventually stressing the importance of one's data rights and being in tandem with the user-bound native processing norms of messaging apps – via the marquee GDPR.
Unpacking GDPR/ GDPR: How it all started?
Whether you collect, store or handle data of users or rather a conversational app catering majorly to the EU(European Union) or other diaspora per say, GDPR for sure has a major effect on your business.
Traditionally, it is an exhaustive privacy and security framework put forth by the EU to reshape the way brands approach user data and its associated variables.
With a firm stance on the entrusted user information, the standard regulation has enabled organizations to effectuate data protection norms, establish legal basis and report instances of breach for seamless proceedings thereof.
Consequently, when enacted to perfection, this instills confidence in users, gives them more control over their data and eventually sparks a sense of data responsibility for the brands particularly the ones encouraging immersive in-app conversations.
Bits and pieces of GDPR / GDPR in messaging apps, an advantage?
Governed by the overarching principle to bring in transparency in retrospect to the information procured and managed by business applications(conversations, account info etc) on a day-to-day basis, the act has edified a compliance checklist that covers majorly the following fragments:
1. Informed consent and opt outs:
This key component of the compliance necessitates businesses to acquire consent from users before getting started with data collection practices.
2. Right of individuals:
● The right to be informed – permits organizations to clearly label and plan out on how they would deal with the user details without room for obfuscation. This means that the information pertinent to user data collection and processing can be easily accessible and understood at all times regardless.
● The right of access – enables users with the capability to access their personal information upon request. With this, users can access their personal data like profile, transactions, etc. and could even get an electronic copy of the same; without charge.
● The right of rectification – allows users to rectify inaccurate or incomplete information without any undue delay from their own devices
● The right to erasure – gives users "the right to be forgotten" by measure of enabling data erasal upon explicit request.
● The right to restrict processing – grants provision for individuals to control and restrict the use of data in cases of accuracy, redundancy. This means that if the user requests to terminate data processing, organizations dealing with the data must comply at once.
● The right to data portability – aids transmission of personal data to a third party or another app upon user's consent and request with ease. By virtue of this clause, end users can port their data to any other app or business opportunities such as social forums, health care providers, recruitment platforms etc without hassles from the business concerned.
● The right to object – facilitates users the capability to stop processing of their personal information in cases of marketing, research etc.
3. Data security:
To ensure data integrity and protection at all costs, the framework mandates all organizations to employ standard encryption and disaster recovery plans for resilient storage and retrieval across all hosting mediums.
Ultimately, through these ever-expanding service clauses and much more in the pipeline, GDPR has the users and their data covered at every step of the way especially when it comes to contemporary messaging apps and their dedicated deployments.
Furthermore, brands willing to embark on this compliance journey should fixate upon the basics (user consent, opt-out/in, data collection etc) in order to move further with this checklist for rendering a secure and protected data outlook across channels.
How can enterprises ensure GDPR compatible messaging?
In light of ensuring compatibility on the lines of GDPR, enabling secure messaging experiences on apps is paramount today for any business regardless.
By following the below pivotal checklist, brands worldwide can not just protect their user data but also ensure compliance at all costs:
Prioritize user consent
Be transparent about your data collection practices
Foster privacy-centric development and design practices
Acknowledge user requests pertaining to their personal data
Designate a Data Protection Officer
Reinforce security of user data within apps
Gauge your services and integrations
Ergo, with these simple yet powerful thumb rules, firms building customer-facing applications can very well develop in-app chat solutions that cater to its purpose whilst being GDPR compatible across platforms effortlessly.
Building GDPR-compatible messaging experiences
Thanks to the typical user's data nightmares & breaches, for now, it is conspicuous that GDPR-compatibility is inevitable for brands and their apps(messaging ones included) today.
Bearing in this vivid reality, CONTUSMirrorFly's API & SDKs helps developers and app owners get started with an in-app messaging setup that complies with the GDPR fundamentals like encryption, consent-based data collection, data erasure and much more on the go.
In essence, heeding to the data shielding & privacy requisites of users via a ready-to-use compliance suite is beyond doubt the vital and lucrative choice for conversational app experiences!