A rustic-themed event evokes a cozy, intimate, and romantic ambiance perfect for weddings, baby showers, birthdays, and other special occasions. Creating a rustic event can be challenging without the right expertise and resources, whether you are a seasoned party planner or a first-time event organizer.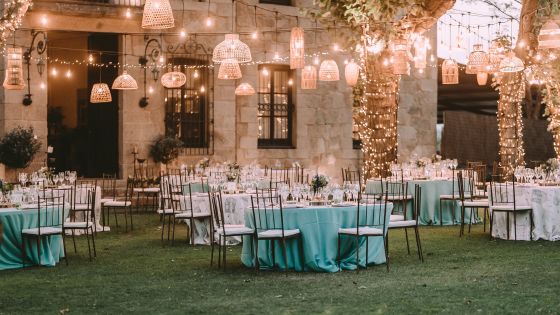 But fret not, for we have gathered some tips and tricks from Orange County Party Rentals to help you create the perfect rustic event. From furniture to decor, we got you covered. Read on to find out more.
Start with a Rustic Venue
If you're planning a rustic event, the first thing to consider is your venue. To set the tone for the theme, finding a location with a natural and rustic feel is best. Look for places that give you your desired ambiance, like gardens or woods. However, if you need help finding the perfect location, don't worry.
Transforming a non-rustic venue is simple with the help of a few trusty party rentals. Add special decor and lighting to bring rustic charm and ambiance to any space. Trust us; you'll be amazed at how easy it is to create the perfect atmosphere for your event.
Rent Rustic Tables and Chairs
The right furniture is crucial in creating the perfect rustic ambiance. Choose farmhouse-style or wooden tables to give that classic rustic look. These tables bring traditional charm to any space and instantly transport guests to a countryside retreat.
Consider vintage wooden chairs or benches for a more intimate feel to complete the look. And remember to add some comfortable seating options, such as pillows, bean bags, ottomans, sofas, or blankets, to ensure your guests are cozy and content throughout the event. Renting rustic tables and chairs is the perfect way to bring a touch of the outdoors inside while still being comfortable and stylish.
Lighting
The right lighting can make or break an event, and this is especially true when it comes to creating a rustic atmosphere. To set the tone for a cozy and welcoming experience, opt for warm-colored tungsten bulbs to cast a gentle, comforting glow that beckons your guests.
But why stop there? Add ambient or fairy lights for a touch of magic, and throw in some lanterns or candles for a truly rustic experience. With the perfect lighting balance, your event will transport your guests to a warm and inviting atmosphere they will never forget.
Decor and Accessories
When decorating your rustic event, could you keep it simple, elegant, and rustic? You can add:
Wooden Tables and Chairs: Wooden tables and chairs are a great way to create a rustic atmosphere at your event. You can rent wooden tables and chairs in various sizes and shapes, depending on the size of your event. The natural wood grain will add warmth and texture to the space while providing an inviting seating area for guests.
Wooden Benches: Wooden benches are another great option for creating a rustic atmosphere at your event. They provide guests with comfortable seating while adding a unique touch to the decor. Wooden benches can be rented in various sizes and shapes to accommodate any number of guests.
String Lights: String lights are a classic decor item that instantly transforms any space into a cozy, rustic setting. You can hang string lights from trees or poles around the event space or drape them across ceilings or walls for added ambiance. With their warm glow, string lights will bring a magical touch to any outdoor gathering or indoor celebration.
Mason Jars: Mason jars are another great accessory for creating a rustic atmosphere at your event. You can use mason jars as centerpieces on tables, holders for candles or flowers, or even as drinking glasses for guests! Mason jars come in all shapes and sizes, so you're sure to find one that fits your needs perfectly.
Burlap Tablecloths: Burlap tablecloths are perfect for adding texture and warmth to any table setting at your event. These tablecloths come in various colors and styles, so you'll surely find one that perfectly fits the rest of your decor! Burlap is also durable enough to withstand spills and messes throughout the night without getting ruined – making it an ideal choice for events with children or messy eaters!
Food and Drinks
To complement your rustic event's theme, serve comfort food and drinks that are hearty, wholesome, and rustic. Here are some ideas for rustic event food and drinks:
Homemade soups, stews, pot pies, and casseroles will warm your guests. Serve hearty comfort food staples like mashed potatoes and macaroni & cheese to give them the ultimate cozy feeling.
Serve classic country-style desserts like apple pie and cobblers to satisfy your guests' sweet tooth.
Create signature cocktails that feature whiskey, bourbon, or moonshine to give your event a rustic-style twist.
Planning a rustic-themed event can be fun, but it does require attention to detail to create the perfect ambiance. With Party Rental Orange County, you can easily make the rustic charm you want. Follow these tips and tricks to create a cozy, intimate, and romantic rustic event that will impress your guests and make your event memorable.