Need a new roof or roof repairs? Whether it's your house roof or office roof, it is extremely crucial for it to be in top-notch condition. A damaged roof when left unattended can not only cause you enormous bucks but can also be dangerous for people in that building. If you want to get your roof repaired or replaced on time, and within budget, it is recommended to only trust a professional and experienced contractor.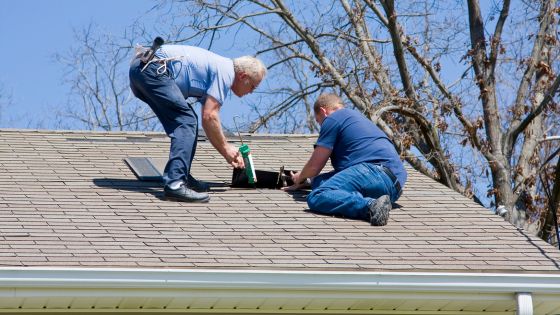 Finding the right roofing company in Berlin, CT, can be overwhelming as there are so many companies out there. In this guide, we'll provide you with essential tips on how to choose the right roofing contractor for your project.
Tips to Find The Right Roofing Company in Berlin, CT
Hiring a roofing contractor like James Kate Roofing & Solar is not a tough nut to crack. But, do you know how to find the right one that does the job with utmost efficiency and loyalty? Here's a checklist of items you must verify before finalizing a company for your job;
1. Check Their Credentials
The first step in choosing a roofing contractor is to check their credentials. Make sure the company has the necessary licenses and insurance coverage required to work on your property. Ask for their business license number, liability insurance, and workers' compensation insurance information. Verify the information with the state or local licensing board and insurance provider to ensure validity.
A business license number is a unique identifier that shows the contractor is legally allowed to operate in the area where the work is to be performed. Liability insurance protects you from any damages that the contractor may cause to your property while working, while workers' compensation insurance covers any injuries that may occur to the contractor's employees while on the job.
2. Look for Experience
Experience is critical when it comes to roofing projects. Always, trust a roofing company that is working in this industry for a couple of years. This ensures they have enough experience in working with different kinds of roofs and hence a roof that is just like yours. Check the references and online reviews of the company to check how customers think about it. An experienced roofing company will be able to work in tricky situations and solve on-the-job challenges easily.
3. Quality of Materials
A reliable roofing contractor will use high-quality materials to ensure that your roof lasts for years to come. Ask about the types of materials they use and their quality standards. The use of quality materials is crucial because the roof is exposed to weather elements such as sunlight, rain, wind, and snow, which can cause significant damage if the materials are of poor quality.
A professional roofing company will explain the differences between different roofing materials and help you choose the best option for your home or office.
When selecting roofing materials, contractors consider factors such as durability, fire resistance, energy efficiency, and environmental impact. High-quality roofing materials should be durable, able to withstand harsh weather conditions, and resist damage from hail, wind, and moisture. They should also be fire-resistant and energy-efficient to help lower energy bills.
4. Warranty
Make sure to ask about the warranty offered by the roofing contractor. A reliable contractor should provide a warranty for their workmanship and the materials used. This will give you peace of mind knowing that your investment is protected. A good warranty covers both the workmanship and roofing materials used in the project.
In terms of workmanship, the warranty guarantees that the contractor has used proper installation techniques and that the roof will be free of any leaks or damage caused by poor workmanship.
The materials warranty, on the other hand, should ensure that the materials used in the roofing project are of high quality and that any defects will be covered by the manufacturer or supplier.
Typically, a warranty can range from a few years to a lifetime, depending on the quality of the materials and the contractor's confidence in their work.
5. Competitive Pricing
When considering hiring a roofing contractor, it is important to factor in more than just the price of their services. Do not immediately trust roofing companies in Berlin, CT who provide services at extremely cheaper rates than other companies. This is a sign that they may be cutting corners or using subpar materials. It is essential to choose a reliable and trustworthy roofing company that will provide you with a fair and competitive price for their services.
The pricing should be justifiable based on the quality of materials being used and the level of workmanship that is required. You want to ensure that the contractor you choose provides the highest level of quality work at a reasonable and competitive price to ensure that your roof is constructed or repaired to withstand the test of time and keep your home and family safe from the elements.
6. Communication
Communication is essential when it comes to any home improvement project. Look for a roofing contractor who communicates clearly and effectively. They should be willing to answer any questions you have and keep you updated on the progress of your project. Do not settle for a roofing company that claims to complete the roofing project without discussing its current condition and challenges.
7. Safety Precautions
A professional roofing company will prioritize safety for its employees and customers, equally. Make sure to ask about their safety procedures and protocols. The roofing contractor should
Have safety equipment, follow safety guidelines, and provide safety training to their employees.
Conduct a thorough safety assessment before starting work to identify any potential hazards, such as power lines, unstable structures, or slippery surfaces, and develop a plan to mitigate these risks.
Secure the work area to prevent unauthorized access and ensure that materials and tools are stored safely and out of the way of pedestrians or vehicles.
Provide adequate warning signs to alert people to the presence of a work zone and potential hazards.
To Sum it Up
Take the time to research and compare different roofing companies in Berlin, CT before making a final decision. By choosing a reliable and professional roofing contractor, you can ensure that your roofing project is completed on time, within budget, and to your satisfaction.