Training falls under a range of categories. The numerous short and longer-term options for employees can help them build a stable and rewarding career. While the cost of investing in training for employees may be high, it typically pays in dividends throughout the course of a worker's time with a business.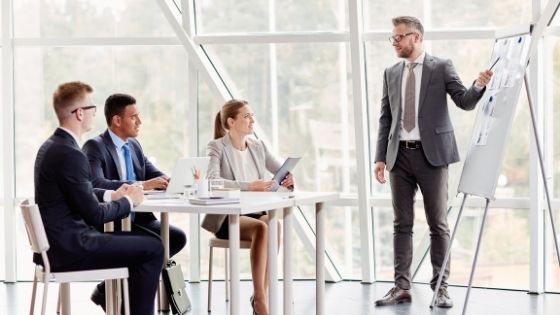 Depending on your industry, there may be specific courses dedicated to improving performance and knowledge in particular niches. Online training platforms offer courses like for example an ISO 9001 Course that employees can take to upgrade their skills. To get the right balance, every employee should have the opportunity to participate in training. This will depend on the job role, but employees in one department should not feel excluded compared to another.
When providing training for employees, it's also beneficial to think about how it will positively impact the business. Some courses may directly affect the way someone carries out a job, and in turn, this improves productivity. However, other courses could impact an employee's wellbeing, which will boost morale and happiness in the work environment. Training shouldn't be purely viewed as a profit-based activity but one that enriches your workforce.
If you're looking at training options for your team, there are numerous options to consider. Think about what could benefit both you and the employee, and take a look at some of the most popular types of training to decide what's best for your business.
1. Management training
There are different levels of management within businesses, and when an employee moves up the ranks, training is often required. Many people have a natural talent for leadership. However, there is a myriad of things to learn in this position. Senior-level and managerial roles incorporate more responsibility for people and workloads. Training will help develop the core leadership elements needed for a particular part, including how to manage others effectively.
2. Sales training
The role of sales is an ever-evolving career option. There are many tried and tested techniques in different industries, and companies harness their own processes to garner more customers. However, sales isn't just about promoting products and services; it's getting those all-important conversions. In some sectors, it's not for the faint-hearted, and a proactive approach is always needed. To ensure your staff have the right tools to sell well, training is essential. Whether this is internal training or external experts, each provides value to a successful team.
3. Mentoring
Whether an employee is new to a company or moving within an organisation, a mentor can be an excellent option for training. Working alongside an experienced member of staff to learn the job is beneficial as it enables an individual to understand processes and systems while implementing them with a guide. Mentors will also give valuable feedback and advice, which will help an employee improve over time.
4. Personal study for qualifications
Depending on the type of role an employee has, it might be beneficial to undertake external qualifications. For example, an accountant's firm may provide funding for new staff to take professional courses to advance their career. For example, an ISO 9001 certified company may provide funding for their internal auditors to take iso 9001 lead auditor training courses to advance their career. Personal study is an investment in time for employees, and to help them balance their work and home life, it often helps to allow them time for exam study during work hours. Even if your team is working remotely, there are several online team building activities that you can organize for them.
5. Health and safety training
Health and safety are essential in any organisation. Whether you have a few staff or hundreds, adequate procedures should be in place so that everyone has a good understanding of the risks in a workplace. In some cases, trained first aiders are needed to ensure you have adequate coverage in an emergency. There are numerous first aid courses available, and these highlight the basics required in medical incidents and accident situations. Employees often volunteer for this role, and employers should encourage participation if needed. Learning first aid isn't just beneficial in a work environment; it could also help in everyday life. These key skills will also improve employee confidence and composure in an emergency.
Training is an important step in an individual's development in the workplace. By encouraging study and improving skills in different areas, it also shows how much you value staff. Employees may also suggest courses appropriate to their job or skillset, and this shows initiative and drive to do better. While some requests may not be suitable or viable for funding, it's important to acknowledge the willingness to level up their career.
"The more that you read, the more things you will know. The more that you learn, the more places you'll go." – Dr.Seus