Kitchen design and modernisation is an exciting endeavour that can bring new life to your home. Using our research, you can modernise your kitchen with these tips and make it look like a brand-new space. Whether you want a complete overhaul or minor tweaks, this guide will provide helpful tips and ideas to help you create the kitchen of your dreams.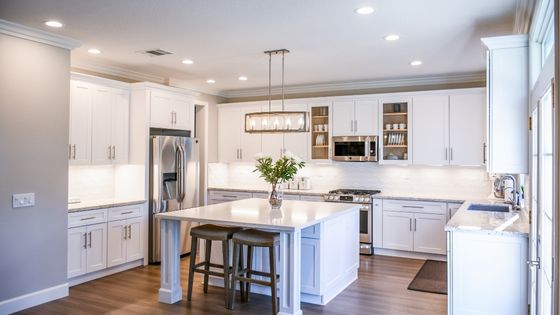 ● Update Your Appliances
Investing in new, high-performance appliances is one of the best ways to modernise your kitchen. More recent models are more energy efficient, saving you money. Moreover, they come in stylish and sleek designs that look great in any kitchen.
● Change Out Your Cabinets
Replacing your cabinets can be a great way to add a fresh and modern look to your kitchen. Choose cabinets made from high-quality materials, like solid wood, and choose a colour that complements your overall design.
● Add A Kitchen Island
Consider getting a kitchen island if you want to add storage and style to your kitchen. Choose an island with plenty of counter space, an appliance station, and storage options.
● Install A Smart Faucet
Smart faucets are the perfect addition to any modern kitchen. They allow you to control the water temperature and flow with the touch of a button, and they look great, too.
● Enhance Your Lighting
Lighting can make a massive difference in the look and feel of your kitchen. Choose modern fixtures with bright, efficient bulbs and adjust the lighting levels to create the perfect atmosphere.
Modern Flooring Kitchen Options
When designing the perfect kitchen, flooring is an essential element to consider. Modern flooring solutions offer various options, allowing homeowners to customise their kitchens to match their style.
From hardwood to laminate, tile to vinyl, there are many materials and designs to choose from when creating a modern kitchen. Here are some of the best modern flooring solutions for kitchens.
● Porcelain Or Ceramic Tile
Porcelain and ceramic tile are popular choices for modern kitchens. They are durable and come in various colours and textures. In addition, they are water resistant, making them ideal for high-traffic areas.
● Luxury Vinyl Tile
A luxury vinyl tile (LVT) is suitable for a low-maintenance kitchen floor. LVT is available in many colours and styles, from stone and wood to geometric patterns. It is also scratch-resistant and easy to keep clean.
● Concrete
Concrete is easy to maintain and can be customised with colours and patterns to fit any style. In addition, it is highly durable and can last for decades.
● Bamboo
Bamboo is an excellent option for those looking for a durable, eco-friendly kitchen floor. It is naturally water-resistant, which makes it ideal for high-traffic areas. Moreover, it is easy to clean and maintain.
● Cork
Cork is an excellent selection for those looking for a soft, comfortable kitchen floor. It is eco-friendly, warm to the touch, and easy to clean. In addition, it is naturally water-resistant, making it a great choice for high-moisture areas.
Conclusion
After exploring different ways to modernise your kitchen and favourite flooring options, it is clear that there are various ways to achieve the modern kitchen you are looking for. With some planning and innovation, you can transform the heart of your home and create the perfect place for cooking and entertaining.