Watching movies online has become a popular trend and there have been a number of people who have tried to access the online movie sites with their smartphones so that they could watch movies on the go. If you're one of those people who enjoy watching movies on smaller devices of when you're traveling then it's better to have movie apps installed on the devices instead of depending on websites.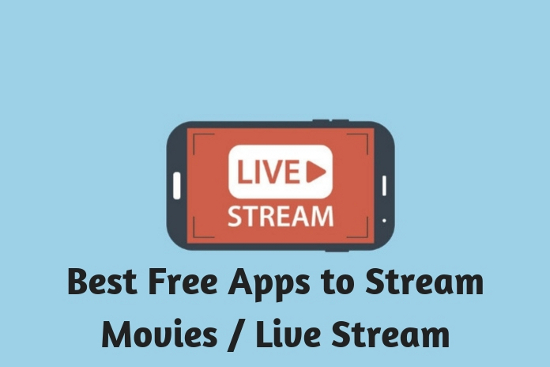 Apps work faster and more efficiently on phones and tablets which is why they are more popular. It also becomes easier for you to pick movies to watch from apps because the navigation is simpler as compared to a site which was primarily built for a computer. IF you're keen on watching movies or checking out live streams on these devices then here are some of the best apps that you can download.
Periscope
If you want to watch live streams that have been uploaded by people across the globe then the Periscope app is a must have. You can download the app on your phone and enjoy live streaming no matter where you are. The best part about Periscope is that it is an easy to use app and you can check out live streams from all across the world.
This app is designed for mobiles, but if you are wondering if you Can you watch periscope on your computer? Then yes, there are ways for you to get this app on your computer as well.
Internet Archive
While a lot of people use the Internet Archive app for other reasons, it's a great app to watch movies too. You just need to know how to look for movies on the app. Once you figure it out all you need to do is to enjoy them. There are a lot of movies that you'll find on this app and if you're a documentary lover, this is the ideal app for you to use. While you might not find some of the latest movies here, you'll be able to watch some rather good ones on this app. This is a free app so there's no complaining about the quality of the movies here. It's a reasonably fast app to work with, so if your speed is good you'll be able to enjoy the movies without any interruption.
MovieBox
This has recently become one of the most popular movie streaming apps that you can download on your iPhone or iPad. While there are quite a few apps that offer free movie streaming, most of them force you to register on the site before you can use the app, however, when you use MovieBox, you don't need to worry about registering or signing up on the app in order to be able to watch movies. One of the best things about MovieBox is that you will find all the latest movies on it. If you haven't been able to catch a movie at the theater and you've been regretting not being able to watch it, you won't have to wait long till it's uploaded to MovieBox for you to enjoy. While MovieBox is a free app, it's one of the few apps that doesn't play annoying advertisements before, during or after the movie and this is why you can get the full movie viewing experience using this app.
Popcornflix
If you enjoy Netflix but hate the subscription charges, you'll love Popcornflix. It's very similar to Netflix, but it's free which makes it an ideal app to have on your phone. There are tons of movies that you'll find on the app and the navigation for the app is very simple so you won't need to struggle to find a movie you want to watch. There's a genre section for you to be able to check a movie based on your preference and you can also filter them based on the ones that are recently added so you know which the new movies that you can watch are. If you love TV shows, this app is a great one to have on your iPhone or iPad because it usually updates the latest episodes of popular TV shows from time to time.
SnagFilms
This one's another great app that you can have on your iPhone or iPad. The app is free to download so you won't really mind the fact that it doesn't update movies that often. While there's quite a collection here, you might want to spend some time in exploring the app because it's not the most user friendly movie streaming app that you'll find. That being said, the collection of movies here is vast, so you'll always have something to watch even when there are no new movies that might interest you. You can download the app directly from the app store but it will take you a while before you figure out how you can find the best movies to watch on the app.
Yidio
This is an amazing movie streaming app, however, Yidio doesn't work well on all apps which is why not a lot of people have used it yet. You can download Yidio on an iPad or an iPhone and once you have the app you will actually begin to enjoy using it. There are tons of benefits that you get out of the app and one of the major benefits is that you can watch some of the most popular movies here without paying any money. The app is very user friendly which means that once you have downloaded the app you will be able to enjoy movies on it in no time.
Viewster
Viewster is a great app that you can download on your Apple devices without any problems whatsoever. While there are tons of different movie streaming apps that you will find, this is one of the most effective apps that you can try. It can be downloaded without any trouble and you will be able to use it smoothly without any trouble. Once you download this app you will be able to see how convenient it is to stream movies whenever you want to.
There are quite a few free movie streaming apps that you will find which will work well on Apple devices, specifically those which are handheld, however, you need to make sure that pick one that you can enjoy using without having to put in too much effort to figure out how it works. Once you find an app that is convenient to use, you won't need to look for a new one again.