A woman's bachelorette party is her good-bye to single life. She is going to be a married woman soon, so this is a last hurrah, if you will. It's supposed to be fun and just a little bit naughty. It's also supposed to be memorable and reflective of the bride's relationship with her girlfriends. Here are 8 ideas for an unforgettable bachelorette party.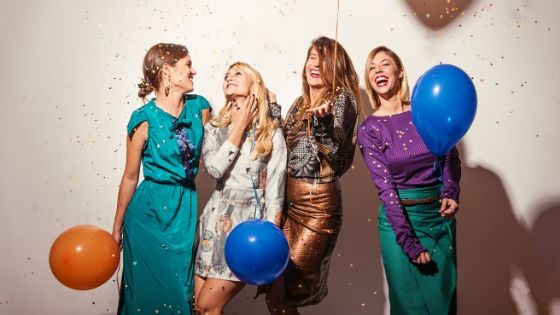 1. Sleepover
Go back to the days when you would hang out with your girlfriends in your pajamas and sleep over together. You should get snacks (and wine) and play games you used to play when you were younger. You may even choose to prank call some of your significant others. It's a bonding experience that can bring you even closer together than ever.
2. Spa Day
A bride needs to look her best. She also needs her bridal party to look great. Get together and spend the night practicing some self-care with manicures, pedicures, facials, and hair treatments. Buy organic snacks and maybe even do some yoga and meditation as well. This is perfect for a group who likes to keep things tame and relaxed.
3. Go to the Strip Club
It's a bachelorette party. Consider going to the strip club to see some topless waiters and gorgeous men shake it on stage. It's a wild time, and bachelorettes may even get pulled up on stage. Naturally, you should check with your significant other to ensure they are comfortable with the scenario. Apart from strip clubs, you can visit Showbar Brisbane to make your day memorable.
4. Pole Dancing Class
A wife needs to be sexy for her future husband. Learn how to spice things up by going to a pole dancing class. Everyone can tap into their feminine and sexy side. You may even learn how to bring some things into the bedroom. Ask the teacher about additional classes in the future if everyone had fun. You can also book pole dancing for hens night for your party. Plus, it's a great way to get exercise.
5. Go Camping
Instead of doing something traditional, go camping for the weekend. You and your girls can enjoy nature while bonding. Pick a place with great scenery and plenty to do. Go on hikes, hit the beach, go fishing, and build a fire. You can also drink beer, listen to music, and eat hot dogs and s'mores. You can even opt to go camping if you aren't quite as fond of dirt and bugs.
6. Poker Night
Poker is great for the competitive group of friends. It's also a great way to find out who in your group of friends is a great liar. Get your visors and sunglasses and set up a poker table. Use chips if you don't want to use real money. Make sure everyone knows how to play to ensure everyone is on the same playing field. This is also a great option for couples who want to spend the bachelor/bachelorette party together.
7. Get Crafty
If you are someone who likes to create and make things, you can set up a night of different crafts for you and your girlfriends to do. Heck, you may even want to get a couple of things done for the wedding. Make sure that you coordinate with the other girls to learn who has what crafting supplies and tools. You should also have a plan for projects that may take more than a night.
8. Bar Crawl
Go traditional with a bar crawl. Stick close to home or even consider hitting a destination. Make a loose plan of all of the coolest bars in the area and their hours. Make a plan on which bars you want to hit first, second, third, fourth, etc. Be sure to have a plan on how to get to each bar (and home) safely. Don't forget to wear party dresses and sport obnoxious penis-themed accessories so everyone knows it's a bachelorette party. But hey, if you want to add fun, you can rent a bachelorette party bus to Bakersfield, CA.
These 8 bachelorette party ideas are a great way to celebrate a woman's marriage in a way that can bond girlfriends for years to come. These are memories that last a lifetime, so you want to make them good. Whether the bride prefers something fun and exciting or something low key, just make sure it's a night she remembers. Call Hens Night packages to learn more.