Bringing a new baby home is like bringing home a tiny piece of your heart that over time will grow to occupy just about all of that heart. The baby is small, helpless, and entirely dependent on you for the things they need. Your desire is already to fulfill all of your child's needs, but that is hard to do if you don't anticipate everything baby is going to need those first few months of life. Here's a brief list of the 7 items that will become part of your essential baby kit in the year to come.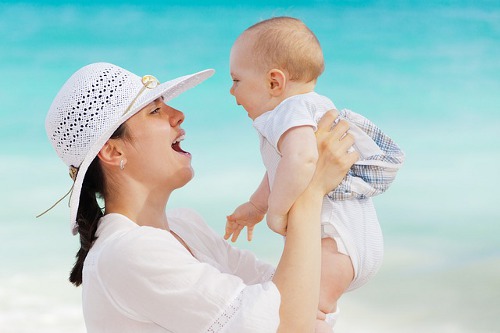 1. Car seat
If you plan on going anywhere in the next year, you're going to have to accept that you now have another very important passenger to put in your vehicle sometimes. Your baby can't sit upright or use a seatbelt, and it's not safe for them to sit facing outward like adults do. You'll need to grab a car seat that meets all safety guidelines for tiny travelers. Read here for best quality of booster car seats.
2. Diapers
Just like all human beings, your baby has to go to the bathroom. Even before your baby talks, walks, or sees, they're going to have the capacity to go to the bathroom. That might seem unfair, but it's a fact of life. Make sure you have an army of diapers that are sturdy and up to the task of handling your new bundle of joy's favorite pastime.
3. Bottles and breast pump
Even if you breastfeed, you're probably going to want to have a supply of breast milk on hand for your baby whenever they're hungry. A breast pump lets you get your supply of milk for baby ahead of time, and you can then bottle feed later on when the time is right. Remember, the time is right whenever baby says it is.
4. Baby Bassinet
Your baby needs a nice, safe place to sleep, and the bassinet has long been a favorite of parents. Unlike cribs, bassinets are typically highly transportable and easy to use in the first months of life. A Baby Bassinet by BabyHood will one day be one of your most treasured memories. They're sturdy, cozy for your little one, and an essential part of your baby's first months of life.
5. Baby carrier
Even though you love holding your baby, and who wouldn't, it's likely that your arms aren't always going to be up to the task. Between the diapering, burping, feeding, and going and going, it's likely that you will want an easier way to carry your baby. A wearable baby carrier is the ideal solution for this. Every parent should have one on hand from day one of a baby's life. Your future self will thank you.
6. Clothes
Baby apparel is a huge essential. Everything from tiny baby shirts to tiny baby shoes will form an important part of your baby's life from the moment they come home. You may prefer to do away with the major items in the first few months, but eventually, those little shoes will be an everyday thing. Gowns and onesies work well in the first month or two.
7. Stroller
Your baby will be traveling in style once they've got a new carriage to rely on. You are the chauffeur of your baby's stroller, the captain, and the leader. They're going to have grand times in their stroller, so make sure you pick out one with a comfortable space for them to really enjoy their outdoor time. Check out explanation, for more details.
8. Baby Bathtub
Bath time can seem intimidating to infants, and no one blames them. Water is new to them. So is that little splashing world where you inexplicably (to them) put them at random. Make sure that you choose a very safe, recommended baby bathtub that other parents have used and recommend.
Your baby kit is complete once you have these things. Other optional things like toys are of course important for their development, but don't move onto the optional things until you have all these absolute necessities in place and ready by the time your baby arrives to bring you joy.