There are many choices for cabinet colors and styles in your kitchen remodeling project. Though each category has different advantages and disadvantages, one leads the group in terms of fad-resistance, flexibility, and versatility. Time after time, white Shaker kitchen cabinets lead the pack in popularity, and for many good reasons.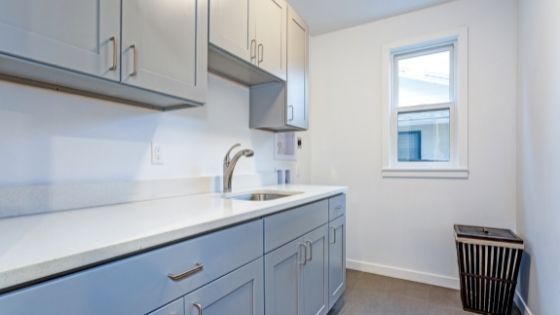 You are going to want a cabinet that supplies its own pop and style, but also gives you neutrality and a clean backdrop to give you the creative freedom to develop a unique kitchen. If you are searching for top-notch cabinets, functional and elegant at the same time, and also an excellent foundation on which to build your renovation, white Shaker cabinets will be the choice for you.
You Can Count on Their Versatility
For quite some time, Shaker cabinets have been the central design of sophisticated and timeless kitchens. The style of these cabinets is well stated, but they also have the capacity to work with any kitchen layout. Their unassuming look and utilitarian use helps them mesh well with many kitchen designs, as well as modern or even industrial designs. You can match any other materials (such as backsplash or flooring), appliances, and accents with Shaker cabinet style and attain the remodeling goals you strive to achieve. Excellent Shaker cabinets are known to be durable, sturdy and streamlined in appearance. The end result is a classic look that works great in many different design schemes, whether you are going for a conservative, old-fashioned layout or a sleek modern style.
Other styles of cabinetry may work fine with specific kitchen design goals and layouts, giving you a look you are going for if you know what you seek. For example, bead-board cabinets are the most fitting choice for a cottage-designed kitchen. An outstanding option for slab cabinets is for modern kitchens. Many of these types of cabinets will not work in other schemes and won't flow with specific themes. When you choose these other cabinet styles, you may or may not be able to reach the ideal kitchen renovation of your dreams. Shaker cabinets demonstrate flexibility across multiple kitchen layout types time and time again, no matter what type of kitchen design plan you have in mind.
An essential and common element in deciding between all kitchen cabinet styles is price. While there is a wide diversity of costs in various models of Shaker cabinets, they are generally less expensive than other cabinet types. Shaker cabinets provide a combination of quality and cost-effectiveness that is hard to beat. Finding the perfect Shaker cabinets can be a bit complicated, but there are ways to land that cabinet product you seek. Go with a respected company that knows their stuff and will provide valuable advice and guidance to help you find exactly what you are looking for.
White Shaker Kitchen Cabinets Are the Go-To for Any Kitchen
White shaker kitchen cabinets remain the most prized style and color of cabinets for sale today. They have a persistent simplicity that appeals to many renovators who are beginning a kitchen update. The smooth, clean lines and accents found in these cabinets balance the neutrality of white. The enduring combination of sleek style and bright tones increases the effect of a lighter, more spacious room. Kitchens feel roomier with the right cabinetry, which is why white Shaker cabinets work so well in so many different layouts.
Another winning advantage of white Shaker kitchen cabinets is that they match any color in the spectrum or style that designers have in mind. The rank of many color choices may go up and down, but you can often see white cabinets at number one. They are like a clean slate to create with, and any countertop, appliance or floor will work remarkably well with them. White cabinets have also proven to be reliable and resistant to passing fads, and many homeowners still think of them as an obvious choice to go with in their project.
Conclusion
White Shaker kitchen cabinets are the most flexible version of kitchen cabinetry around. Whether you are a seasoned remodeler or a novice kitchen updater, you will absolutely fall in love with this option. The fresh look, bright tones, and reliable quality of Shaker cabinets are proven and dependable. White Shaker cabinets are the go-to style for many types of people and you can find white shaker cabinets online at https://walcraftcabinetry.com/kitchen-cabinets/white-shaker-cabinets/.