Indian ethnic suits stand as an enduring testament to the amalgamation of tradition and style. Whether at a wedding, festival, or cultural event, ethnic suits for women offer a timeless expression of grace. To truly slay the Indian ethnic suit game, consider these seven tips that will elevate your look and leave a lasting impression.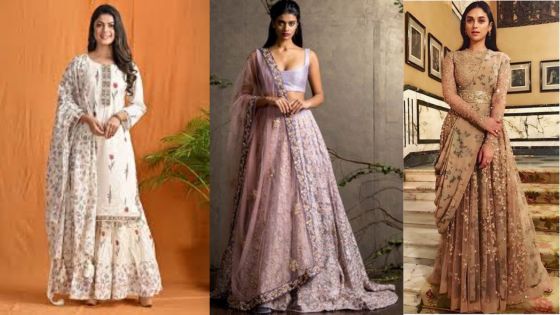 1. Play with Colours
The enchanting kaleidoscope of colours in Indian ethnic suits allows for boundless creativity. Move beyond the conventional reds and blues; experiment with unconventional hues such as pastels, earthy tones, and jewel shades. Mixing and matching contrasting colours can add a contemporary twist to your traditional ensemble, creating a vibrant, eye-catching look that sets you apart.
2. Experiment with Silhouettes
Gone are the days when ethnic wear suits for women's adhered strictly to traditional silhouettes like Anarkali or straight-cut styles. Modern fashion has ushered in a plethora of silhouettes, from palazzo suits to A-line kurtas. Experimenting with different cuts and styles allows you to discover what complements your body type and personal style. A well-fitted silhouette accentuates your features and ensures you stand out in the crowd.
3. Accessorize Thoughtfully
Accessorising is the key to transforming your Indian ethnic suit from ordinary to extraordinary. Consider donning statement jewellery, such as chunky earrings or a bold necklace, to instantly elevate your look. Adding a maang tikka or a stylish bindi imparts a touch of traditional glam. Complete your ensemble with a classic potli bag or a clutch adorned with intricate embroidery. Thoughtful accessorising adds finesse and character to your overall look.
4. Mix Traditional with Contemporary
Blend the rich heritage of Indian ethnic wear with contemporary elements to create a fusion look that is both trendy and timeless. Experiment by pairing your traditional suit with modern trousers or a crop top instead of the conventional blouse. Infusing a contemporary twist into your outfit showcases your fashion-forward approach and brings a fresh and exciting vibe to the traditional attire.
5. Fabric Matters
The choice of fabric plays a pivotal role in determining the overall look and feel of your Indian ethnic suit. While silk remains a classic choice, consider expanding your horizons with luxurious fabrics like velvet, brocade, or organza. Each fabric boasts a unique texture and sheen, adding depth and character to your outfit. Choosing fabrics that complement the occasion and suit the climate ensures a perfect balance of comfort and style.
6. Footwear Finesse
Completing your Indian ethnic suit look requires the right pair of footwear. While traditional juttis or mojaris are fail-safe choices, don't shy away from experimenting with heels or embellished sandals for a modern twist. Striking a balance between comfort and style is key, ensuring that your footwear complements the overall aesthetics of your traditional suit for women seamlessly.
7. Hairstyle Harmony
Your hairstyle is the crowning glory that can either make or break your ethnic look. Experiment with traditional Indian hairstyles like braids, buns, or loose curls to complement the intricate details of your outfit. Consider embellishing your hair with traditional accessories such as hairpins, maang tikka, or fresh flowers for an added touch of elegance. Your hairstyle should seamlessly integrate with the overall theme of your ensemble, enhancing the authenticity of your ethnic look.
In conclusion, slaying the Indian ethnic suit game involves embracing the beauty of tradition while infusing your unique style into the ensemble. From experimenting with colours and silhouettes to accessorising thoughtfully, these seven tips guide you in mastering the art of ethnic wear. The next time you don ethnic suits for women, do it with confidence and flair, letting your style speak volumes and making a lasting impression that resonates with tradition and modernity.