Optometry is a part of science that deals with human eyes. An Optometrist is an expert who can help correct a person's vision and prescribe them glasses that can correct their vision and eyesight. Optometry can also assist in correcting various eye diseases with the help of multiple medications and even operations if required in any case. So, Optometry is a significant branch of science. To pursue Optometry, one must enrol themselves in a BSc optometry course.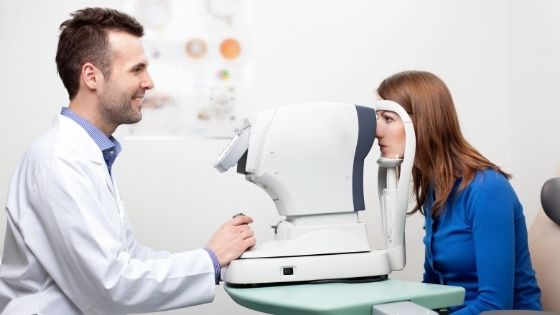 This course will help you in becoming an Optometrist. It is a four-year degree program including both theories and the practical knowledge of the profession. Optometry is a profession that is often underestimated and deserves more respect. In the coming times, the bachelor of optometry would be a course that would be in high demand.
6 Reasons why you should opt for BSC optometry are:
● Great Career: A person can have a great career in optometry since their demand increases day by day. They can also research in the field of optometry. The salary in Optometry is also good and would see a rise soon. So, to succeed in this career, you need to do your bachelor of optometry from a good college.
● Increasing Demand: The demand for Optometrists in India is rising, especially post the pandemic. Everyone has constantly been using either mobile phones or laptops during the lockdown, which has led to people having eyesight issues. So, to treat it, you require more and more Optometrists. This is the primary reason why one should pursue BSC optometry.
● Increase in Scope: Earlier, the role of an Optometrist was only limited to prescribing sunglasses or lenses for an eye defect. But in today's time, they work with an ophthalmologist to provide the patients with medicine and help them with their eye defects through an operation if required. As their role has increased manifold, their demand is also growing.
● Impacting Lives: If you want to positively impact people's lives and make their lives better, you should take up BSc optometry. Helping people by resolving eyesight issues can even make you happy as a person, and your job would mean more than just earning money.
● Research work: If you do not want to do the regular job of an Optometrist, you can also go into the field of research in optometry. By performing research work, you can find solutions for eye problems that are currently incurable, thus making other people's lives better. If you wish to do so, then you must pursue a bachelor of optometry.
So, these are the various reasons why a person should opt for a career in BSC optometry. This particular field will grow shortly in India. So, it would be best if you took up the bachelor of optometry course.