Having an opportunity to wear a swimsuit usually means you're doing something fun, which is great! However, shopping for a swimsuit isn't always exciting because it can be hard to find one that you truly love. More importantly, it can be difficult to choose swimwear that fits your body perfectly. Fortunately, the market for curvy swimwear has expanded and many designers have met the demand. Check out the five types of swimwear that's perfect when you have curves.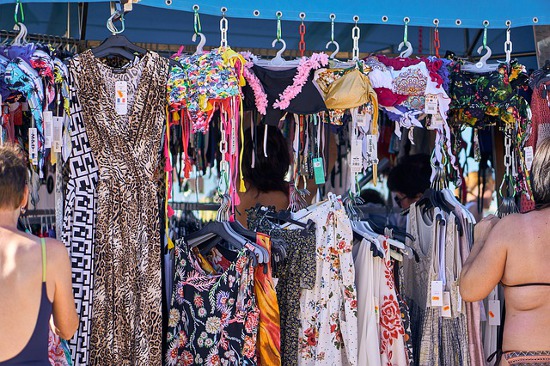 1. Floral One-Piece Swimsuit
Regardless of the season, a floral one-piece swimsuit for girls is the way to go. For starters, it looks great on most body types and tends to truly flatter curvy bodies. Most one-piece swimsuits have a built in bra cup, which is often appreciated because it can give you a little boost. Some bra cups in one-piece swimsuits are removable so you can decide when you want to use it and when you want a bit of freedom instead.
2. High-Waisted Bikini and Flounce Top
One of the most attractive designer swimwear on trend today is the high-waisted bikini that's accompanied by a flounce bikini top. If you want show-stopping swimwear for your curvy frame, this is the way to go. What's great about this style is the movement of the bikini top. It flows beautifully when the wind blows. You can often find this style of swimwear in different colors and designs. The flounce top is the type of top that works well on vacation when you're going from the pool to a restaurant without any time in between to change clothes. All you have to do is put on a midi skirt and you're all set!
3. Wrap One-Piece Swimsuit
If you want a swimsuit that flatters your midsection, a wrap one-piece is the way to go. That's because a wrap swimsuit is usually cut in such a way that it accentuates the smallest part of your midsection, especially if you choose a swimsuit with a crisscross design that also has color blocking. If you like swimsuits with floral or geometric prints, you are likely to find a great wrap one-piece option that fits your style. Depending on the kind of swimsuit chosen, you'll probably want to wear this swimsuit with other articles of clothing, like jeans or skirts. In other words, it can be incredibly flexible and a great addition to your wardrobe.
4. Off-the-Shoulder Swimsuit
Wearing an off-the-shoulder top is a great way to show off your style and the same applies to an off-the-shoulder bikini top. You can wear this type of swimsuit in just about any color and look stunning. What's great about many off-the-shoulder tops for swimwear is that they are designed in a way that ensures it doesn't fall off when you're in the water. This is another type of swimwear that can be worn both in and out of the water with style during a vacation or when you're simply enjoying a nice sunny day around town.
5. One-Piece Bell Sleeve Swimsuit
It's possible to be confident and still not like showing your arms. Sometimes it's simply a matter of preference. If you love wearing a swimsuit, but you want to keep your arms covered, try a bell sleeve one-piece. It's a great option for many body types and it's often a favorite of curvy women. There are different styles, such as bell sleeve swimsuits with a zipper front or one with a peek-a-boo design. You can often find these styles in many vibrant colors and prints. When it comes to choosing a swimsuit that's a multipurpose article of clothing, a one-piece bell sleeve top is a great option. You can probably pair it with many other items in your wardrobe.
These five types of swimsuits will serve you well for years to come. You won't have to worry about what you're going to wear during vacation or a visit to the pool. The best part is that they're great for curvy girls and women that have a high sense of style. Once you try them, you'll want these designs in different colors.