According to a 2016 Google survey, the phrase "how to become a travel blogger" was ranked 7th as the most searched travel phrase on the entire web. And if you ask me, I don't find it surprising at all!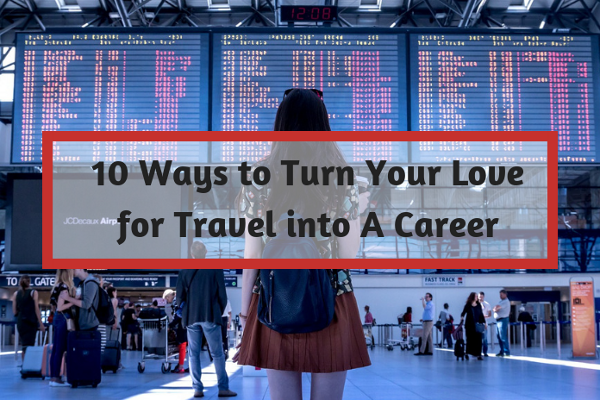 How many times have you daydreamed about witnessing the setting sun in the idyllic village of Santorini or sunbathing on the picturesque beaches of Hawaii? But every time your dream has had to come to an abrupt halt because of the exorbitant budget for the tours. What if I told you that you could now make travel your full-time job? Travel is now a part of many professions, and the free-spirited people are grabbing the opportunity to make their passion into their profession. We all love to travel – while some may prefer the sea, some love the mountains. But given a choice, none of us would miss the chance of travelling to faraway places, right?
To be honest, the very idea of getting paid for travelling sounds enthralling and like a dream come true. Ticking places off your bucket list while the expenses are taken care of by someone else sounds almost like a lottery. But is there any way to make this dream a reality? What if I said YES? Yes, there are many ways in which you can feed your wanderlust and make a mint out of it.
10 Ways To Turn Your Wanderlust And A Make A Fruitful Career Out Of It
Here are the best ways in which you can transform your love for travel into a well-paid career!
1. Take Up A Job You Are Already Doing In Another Country
If you are feeling stagnant at your present job and want to take a break, then leaving the job isn't the only option. You must understand that you have to be responsible enough and cannot make rash decisions about your career. So what you can do is ask for a job transfer. And if that isn't possible, you can easily search for similar jobs in another country. You don't always have to a blogger or a model to be able to skip around the world. There are so many industries that are looking for employees, and if you are competent enough, you might be the one! And if you think that finding a similar job abroad isn't a cakewalk, let me tell you that it isn't as difficult as it seems to be.
2. Travel Photographer
When I say a photographer, I don't necessarily mean someone who likes clicking pictures. You must be professionally trained and be very good at it. The need for vivid images and other kinds of visual aesthetics for the internet is at large. Hence, this is the time you use the opportunity to your advantage. You can start by selling some of the best pictures of one of your personal tours to image stockers like Shutterstock or Pixabay.com. You can become a contributor for such sites and every time someone uses your image for their website or blog posts; you will get a royalty. And when you become a little established, you can move forward to apply in travel channels like NatGeo or Fox Traveller.
3. Travel blogger
If you have a flair for writing paired up with your love for travelling, then the option of becoming a travel blogger might be the best option for you. Although a time-taking affair, once set up well, you can make easy money while being a hippie. Today, platforms such as WordPress have made blogging a proper profession, and travel blogging certainly tops the list. So build your blog with pictures and videos that you have created reflecting the way of life of the places. You can write about the best places to visit and share your adventures with people so that they become inspired to pack their bags too. The best part about being a travel blogger is that many travel agencies and travel brands like American Tourister and Wildcraft will sign you up.
4. Food Blogger
Oh, what wouldn't I give for a job that involved delicacies and travelling together! Channels like Fox Traveller and Food Network are continually looking for connoisseurs who are game enough to try out all kinds of food in the various parts of the world and write about them. If you are ready to try the different and diverse cuisines and travel around the globe at the same time, then this option might be tailor-made for you. You get to visit so many restaurants – both small and big – of a place and taste their eclectic dishes, and you don't even have to pay for it! Plus, there are the free desserts! Need any more reason to pursue this?
5. Translator and Tourist Guide
I remember my last trip to China, and the trip still brings back those terrible memories! I could not understand a word they said and vice versa, of course. The entire trip was more like a game of dumb charades and less of vacation. Visiting foreign exotic places has one major problem – the lack of enough people who you can communicate with. So if you like travelling and converse in English well, then flying off to non-English speaking countries and being a tourist guide for people who do not understand the language of the place can be a lucrative career option. All you got to do is brush up your language skills and learn the local tongue of the place you wish to work in.
6. Teaching and Tutoring
English being the most used international language, teaching the language in countries that do not speak English can be an excellent opportunity to fly around the globe. "You can join as an academic writer and provide assignment help to ESL and TEFL students like I did", says Cho Hewitt, an academic writer with EssayAssignmenthelp.com. There is a shortage of good tutors in many countries. So if you like to tutor, you can use your degree to mentor students privately. One of the best ways to travel is to become a teacher. Especially if you know a lot of languages other than English, then you can even become a soft skill trainer for non-English speaking students. Things will become easier when you can communicate in their language too. All you need will be a degree or certificate of TEFL, that will certify that you speak English fluently, and you can go on with your job.
7. Hospitality Jobs
The industry of Hospitality is a great option as a career because of the generous salaries that they pay. Be it hotels or resorts – everywhere you go you will find a hotel lobby that has international tourists who cannot speak in the native language. However, I would suggest that you apply to local restaurants and cafes as they are the ideal joints for travellers and tourists. And even beyond the language barrier, restaurants and nightclubs are always on the lookout for personnel who are willing to wait at tables or be a bartender. So this way you will able to work in the nights and save the daylight hours to explore the destinations of the place you work in. Moreover, the tips are often generous too, and you could use them to tick certain extravagant things off your list.
8. Air Hostess or Air Stewards
What scares you most about a vacation? Tell me it is the flight charges! But what if you did not have to pay any flight expense and fly across the oceans? I have got a friend who is an air steward and to be very honest, I quite envy his life. Every time I go through my Facebook timeline, I see his pictures posing in front of picturesque locals, and I wish to be in his place. The aviation industry is a great chance to fly to different countries without having to spend a dime from your own pockets. The career of an air host/hostess sure can be demanding and exhausting but then again the incentives of flying to exotic places – often two in a week – can be rewarding enough to make you brush off the tiredness. Enrol yourself in an aviation school and get a certificate and you'd soon be flying to your favourite cities.
9. Cruise ship Jobs
Working on a cruise ship can give you the right blend of luxury as well as the opportunity to explore the world and fulfil your wanderlust. Moreover, the payout is quite handsome, and the experience will remain with you forever, especially if you are a certified sea lover. While on the cruise, you will be allowed to use most of the ship's facilities and live luxuriously. You can take up the job role you are comfortable with and have experience in. From chef to stewards, from managers to singers – the cruise has a myriad of job opportunities open for you.
10. Seasonal jobs
Other than the above jobs, you can also fly off to different countries and earn a living doing odd jobs like babysitting and farm picking. Seasonal jobs like working at summer camps or in ski resorts are really in demand in USA and Canada.
If you have the passion of seeing the world, then what are you waiting for? Grab on to these career options and make your dream come true.