If you produce items to sell at community fairs and farmers markets, you know the work it entails. You need to get everything ready, load it into your vehicle (usually at the crack of dawn), drive to the location, unload your vehicle, set up, and then spend the whole day at the fair. There is a better way to do it.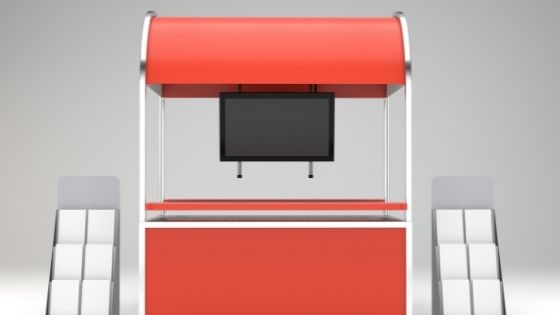 Discover Your Booth
Wouldn't you love to have a professional-looking customizable structure that you can either rent or purchase? The type of booths can be used as outdoor offices, information stations, or as a kiosk?
There are many booth styles, sizes and options. For example, Guardian Booth's modular structures can be customized with a company logo and they can be outfitted with many amenities such as heat and air conditioning, tinted windows and even blinking lights and spotlights.
How Can a Booth Help You?
If you are a vegetable or fruit farmer, especially if your farm is organic, and you usually travel to farmers markets with your produce, you won't have to travel so far. You can gather your products, bring them home and have your own farmers market in your yard.
Inside the booth, the temperature will be comfortable and between customers, you can use your computer or read. The money you take in can be secured inside the booth, unlike at a traditional roadside stand.
Your other option is to let your customers pick the produce themselves. Your booth can be at the entrance to your farm or orchard and people can pay a set amount in return for a container that they go and fill. Your booth will definitely draw attention to itself as the place where transactions should occur.
How Can a Booth Help Your Children?
Kids love to make their own money. A professional-looking booth could really help their sales of such things as lemonade and cookies. Whatever they earn will be safe and they will be able to accomplish things from inside the booth like online classes or summer reading.
They can also grab all of their unwanted toys and equipment and hold a yard sale. Your kids can monitor the activity in comfort rather than standing outside all day. The booth will also provide a clear location for payment.
What Can You Sell in a Booth Besides Food?
Many people who live in towns with tourist attractions do art or ceramics. Some even do candles and perfumes with scents that evoke the spirit of the area.
In the past, these artisans would have needed to rent a shop or at least pay a commission to a shop owner to sell their wares. Now, especially if the booth can be seen from the main streets, tourists will buy right at your home instead of paying inflated prices and having trouble parking in the downtown area.
If your roses or other flowers are blooming, you can even sell them along with your paintings and ceramic bowls.
How Can You Help Your Community?
As long as you have a safe means of transporting your booth, you can be an immense help at all of your community's events.
The booth can function as a check-in station for a benefit road race. It can be used when it's time to sell Christmas trees to benefit the local boys and girls clubs. The heater in the booth will really be appreciated.
Sell hot chocolate for a cause by the local ice skating pond or provide water for those doing a walk for charity.
The sky is really the limit once you start dreaming up places and situations that could use a booth.
Besides being attractive and functional, a booth of your own can make life easier in many ways. Whether it's helping with a charity event or selling your own wares, the proper booth for your needs can improve sales and make you more comfortable while you're selling.
It's time to look into how you can be the proud owner of your own booth.