The pace of modern living comes with its pits and perils. One sad fact is that people tend to put their mental health to the side while pursuing material goods and gains.
A good business owner knows that psychological health can be as important as physical health and tries to meet any needs their workers might have in that area. If you happen to agree with this statement, give teletherapy a try. It might be just what your business needs to bloom.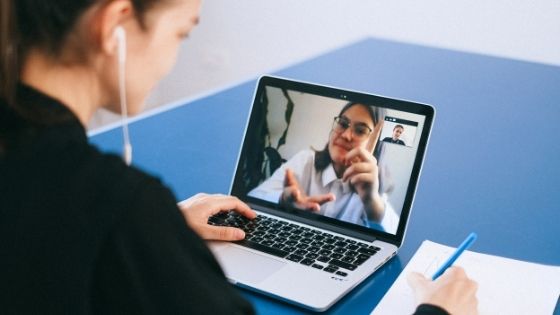 What is teletherapy?
Teletherapy or long-distance therapy is the type of psychological counseling that is performed via phone or the Internet.
According to the American Psychological Association, this type of treatment is gaining popularity since it's very convenient for the users and just as effective as in-person therapy.
As a form of counseling, it was reserved for the military back in the 1990s, but it is becoming increasingly popular with the general public. Here are the reasons why.
Teletherapy is an effective way to battle burnout and stress
Even if you are not familiar with the definition, chances are you have experienced burnout. The WHO defines it as "chronic workplace stress that has not been successfully managed."
As for stress itself, the Center for Disease Control and Prevention claims that stress can negatively affect job performance and productivity, engagement with one's work, communication with co-workers, physical capability, and daily functioning.
It can help with many other issues
When discussing this type of treatment's efficiency, you should know that there has been extensive research on the subject. Studies show that this form of counseling is just as effective as any other treatment type involving individual sessions.
Teletherapy also includes psychiatrists and mental health specialists supporting patients' primary care providers with their consultation and expertise.
Teletherapy works for many people
Teletherapy is beneficial for many different people, for a diverse set of circumstances or experiences, including speech therapy, occupational therapy, and mental health therapy.
It has been used for regular one-to-one therapy sessions but also used in group therapy sessions, as well as in the delivery of behavioral training to caregivers of young people with attention deficit hyperactivity disorder, and many other ways.
It is safe and private
Just like any other form of therapy, teletherapy must be done by professionals. These licensed counselors are legally bound by The Health Insurance Portability and Accountability Act (HIPAA). Moreover, all the sessions must be conducted via a HIPAA compliant video platform. You and your workers can rest assured that everything stays between the patient and the therapist.
Teletherapy is user-friendly
When it comes to users, teletherapy means more accessible and more convenient access to mental health care, which helps people maintain consistency in counseling sessions. It also means more privacy for the patients.
This form of care can be useful for those unsure about trying therapy for the first time. It also removes many of the barriers – physical, emotional, or mental – towards seeking treatment and making it more accessible. Some patients cannot commute to get to their mental health professional, while others simply prefer talking from the comfort of their homes.
It is cheaper than ordinary therapy
Teletherapy is similar to traditional therapy. In-person therapy does not require physical contact or laboratory tests, so it is possible to replicate most of the therapy experience virtually, especially with video chat. Therefore, teletherapy can help with a wide range of conditions and issues, including depression, anxiety, relationship problems, trauma, and chronic stress.
Suppose you run a business and are looking into providing your employees with this service. In that case, the fact that teletherapy is much cheaper than its traditional counterpart is worth considering. Even during the pre-COVID days, most insurance companies acknowledged teletherapy as a valid form of treatment. Nowadays, it's more accepted than it ever was.
Are there any downsides to teletherapy?
All counseling comes with a risk because the process of change can be messy. When it comes to individuals, teletherapy carries the same challenges as traditional therapy. Like the classical forms of treatment, its success depends on establishing a relationship between the patient and the therapist. Some folks might prefer the in-person contact to the virtual one.
It also comes with a few additional considerations, the biggest being a possibility of technology failure. Most counselors will have a backup plan like having a phone session or rescheduling option if technology fails.
Summary
Teletherapy can be beneficial for people who have a lot of commitments to deal with during working hours. The greater flexibility also means almost no waiting time for folks who urgently need to speak to a counselor.
Since there is almost no gap between expressing a need to talk to a professional and speaking to one, most people don't see this form of treatment as a significant invasion of their privacy. This factor makes teletherapy especially useful for office workers who can quickly shift back into productive mode after a teletherapy session.
Find a certified therapist in Austin or anywhere else in the United States and have your workers enjoy the benefits of teletherapy as soon as possible.