In the description of our company on the official website, we indicate that we sew dresses exclusively from premium quality fabrics, however, what kind of fabrics are they, who makes them, how they differ from others, and how this affects the quality of brand products – in our article.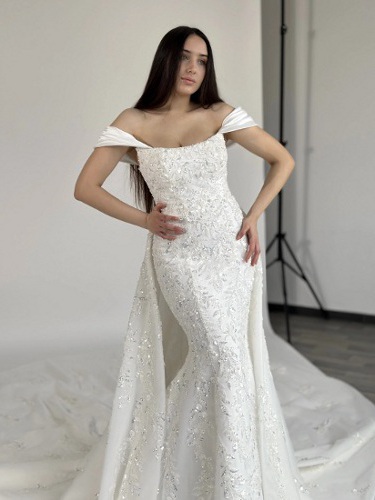 Naturalness vs practicality: looking for the golden mean
Of course, we all unconsciously strive to be closer to nature, therefore we choose materials made from natural fibers – they are pleasant to the touch, absorb moisture, it is not hot in them, however, such a fabric almost always wrinkles very much and can act like a sponge, actively absorb water keeping it inside, which is very inconvenient. That is why it is customary to add a small amount of synthetic fibers to fabrics intended for sewing evening and wedding dress, which, with the proper quality of workmanship, increases the functionality and value of the fabric.
What parameters should the fabric for Dream Bridal Couture designer gowns meet?
The fabric should not wrinkle, because the wedding day is a real challenge for the bride for many hours, during which she has a lot to do, including constant posing for the photographer, and the crumpled hem will definitely not serve as an ornament.
The fabric must breathe: this option depends on the weaving of the fabric, as well as the ratio of fibers and the method of twisting the thread, which is carefully monitored by Dream Bridal Couture technologists, because all our dresses have a classic floor length, we also make closed modest muslim wedding dress so this option is very important.
The fabric should not hinder movement, that is, it should have sufficient elasticity, but at the same time, be strong enough, because the skirt and train always have an additional load, besides, embroidery also implies a certain structure of the fabric
Most importantly, the fabric should match the chosen style of the dress, for example, draperies need a flowing, but not too light fabric, and a puffy skirt needs fabric that will hold its shape, and so on.
Fabrics used in Dream Bridal Couture wedding dresses
Atlas and silk
Shantung
Brocade
Taffeta
Organza and chiffon
We use satin and silk in flowing A-line dresses to convey the tenderness of the bride. Such fabrics are wonderfully combined with delicate female skin and always make a splash. A variety of silk fabric is shantung – this is wild silk, on the surface of which you can see tiny knots and thickenings, it is simply indispensable for creating draperies.
Brocade and taffeta are indispensable where you need to create volume, and this is a princess and mermaid dress, and if the brocade has patterns made with gold or silver threads, then taffeta is a mix of silk and cotton fibers, which allows you to create a thin canvas with a festive gloss.
The finest organza and chiffon, as well as a weightless stretch mesh finish the look, add mystery and even ensure the perfect fit.
We never skimp on fabrics, so we source only the best samples from the best manufacturers around the world, that's the reason why our products are in demand in Saudi Arabia and Europe, France, Germany, USA and Morocco and all over the world.