As the summer warmth fades away, Utah transforms into a winter wonderland that beckons adventure seekers and nature enthusiasts alike. The majestic mountains, serene forests, and captivating red rock landscapes take on a new and magical charm under a blanket of snow.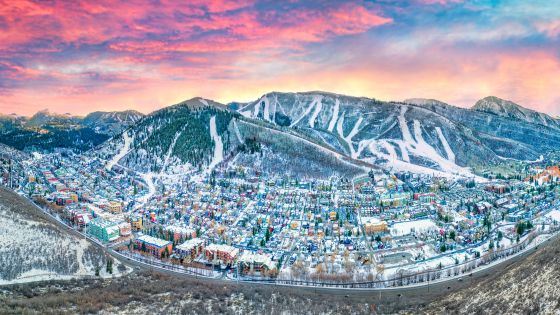 Embracing the winter season in Utah is a truly enchanting experience that offers a plethora of activities and sights to indulge in. Let's dive into the myriad ways you can savor Utah's frosty delight and create lasting memories.
1. Skiing and snowboarding
Utah is renowned for its world-class ski resorts, and when winter arrives, the mountains become a playground for skiers and snowboarders. Resorts like Park City, Deer Valley, Alta, and Snowbird offer miles of pristine slopes, powdery trails, and breathtaking views.
Whether you're a seasoned expert or a beginner, there's a slope waiting for you. The crisp mountain air, the thrill of gliding down snow-covered slopes, and the camaraderie in cozy lodges create an unforgettable winter experience.
2. Snowshoeing adventures
For those seeking a slower-paced winter adventure, snowshoeing is the perfect option. Strap on a pair of snowshoes and explore the serene forests and mountains that glisten with fresh snow.
The quietude of the snow-laden landscape is only broken by the soft crunch of your footsteps. Trails like Donut Falls and Big Cottonwood Canyon offer diverse terrains, allowing you to immerse yourself in the untouched beauty of Utah's winter wilderness.
3. Hot springs soak
To experience winter's paradox, head to Utah's natural hot springs. Imagine immersing yourself in warm, soothing waters while snowflakes gently fall around you. The Homestead Crater, nestled within a geothermal spring, offers a unique opportunity to soak in a mineral-rich pool hidden within a limestone dome. This juxtaposition of warmth against the chilly exterior is an exquisite winter treat.
4. Winter hiking
Winter hiking unveils a different perspective of Utah's iconic national parks. Bryce Canyon and Zion National Park, typically bustling with tourists in the summer, become quiet sanctuaries where you can appreciate the delicate frost clinging to the red rock formations. The snow-covered trails lead to stunning vistas, and the absence of crowds allows you to immerse yourself in the raw beauty of these landscapes.
5. Ice skating
Utah's outdoor ice skating rinks, like the one at Gallivan Center in Salt Lake City, offer a nostalgic way to embrace the winter season. Lace up your skates and glide across the ice surrounded by the city's twinkling lights. The laughter of families and friends, the thrill of skating, and the warmth of hot cocoa make for a perfect winter outing.
6. Sleigh rides
Step into a winter fairy tale by taking a horse-drawn sleigh ride through snow-covered fields. Resorts and ranches across Utah offer this charming experience, where you're cocooned in blankets, and the jingle of sleigh bells fills the crisp air. It's a moment of pure magic, reminiscent of classic winter scenes.
7. Winter wildlife watching
Winter brings unique opportunities to observe wildlife in their natural habitats. Guided tours take you to areas where animals like elk, deer, and bald eagles thrive during the colder months. Witnessing these majestic creatures against a backdrop of snow-covered landscapes adds a layer of wonder to your winter adventure.
8. Winter photography
Utah's winter landscapes are a photographer's dream. The contrast between the snow and the red rock formations creates a breathtaking tableau. Whether you're an amateur or a professional, capturing the icy elegance of the scenery is an art form that allows you to relive the beauty of winter whenever you glance at your photographs.
9. Snowmobiling
For those seeking a thrilling winter activity, snowmobiling offers an adrenaline rush like no other. Navigate through designated trails and open spaces, feeling the wind in your face as you speed across the snowy terrain. It's a heart-pounding way to experience Utah's frosty wilderness.
10. Winter festivals
Utah's winter wouldn't be complete without its festivals and events. The Sundance Film Festival brings the world of cinema to Park City, Winter Lights at Hogle Zoo transforms the zoo into a sparkling wonderland, and various other cultural celebrations light up the winter nights. These festivals infuse art, music, and culture into the season, inviting you to celebrate the magic of winter with fellow enthusiasts.
Conclusion
Finding joy in the winter season in Utah is all about achieving a balance between adventure and comfort. Dressing warmly and prioritizing safety while engaging in outdoor activities is crucial. From snowshoeing to skiing and everything in between, the charm of winter in Utah is simply unmatched.
And if you're planning to stay home, don't let the lack of a traditional fireplace rob you of the cozy winter cabin vibe. Invest in electric fireplace inserts in Salt Lake City to create a warm and inviting atmosphere that complements the winter wonderland outside. Whichever way you choose to experience the magic of winter in Utah, make sure it's an unforgettable adventure.